Palma de Mallorca, Spain!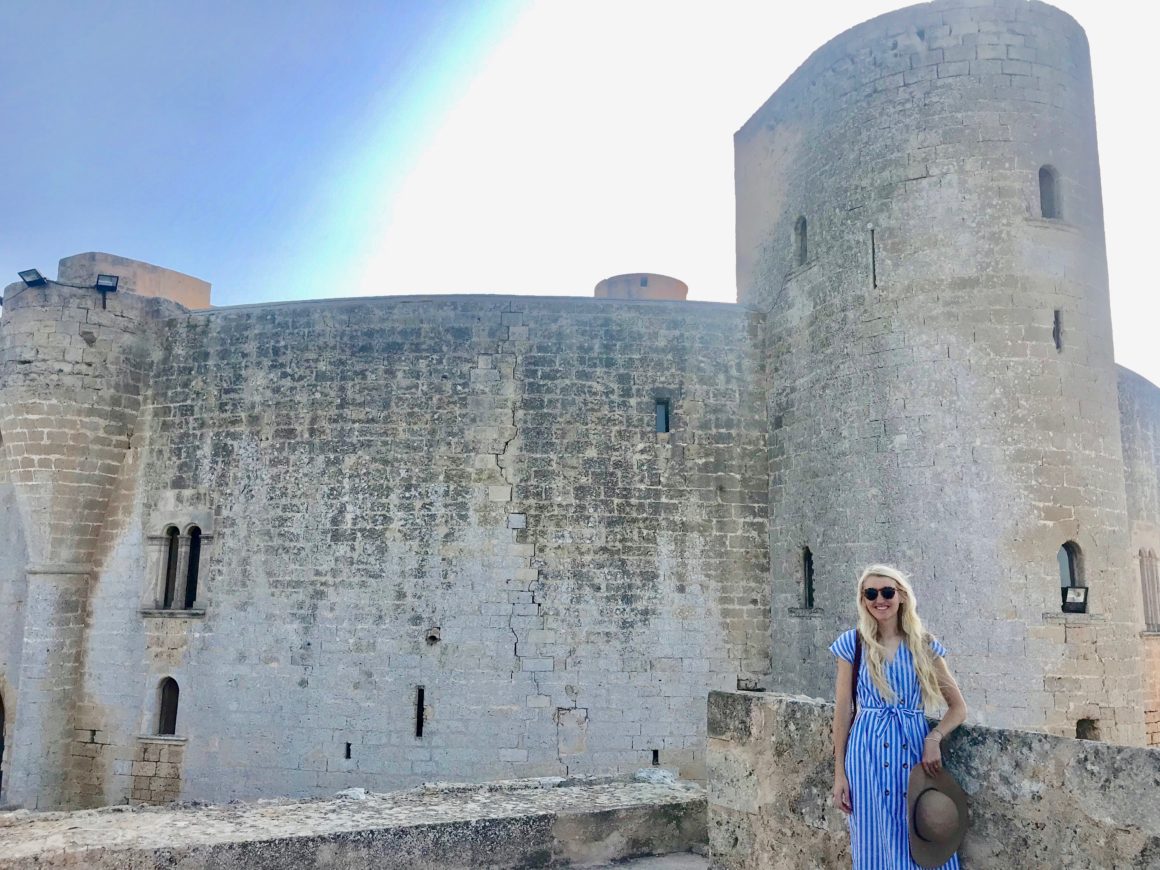 This island off the coast of Spain has long been on my list. It's a bit off the beaten path, so it took us some time to make it here. We didn't travel here while living in Europe — mostly stuck to the mainland continent…so I was saving it for later…and now was the time!
We met my parents to cycle on the beautiful island, which I had no idea was a premiere cycling destination! We spent the first two days covering the island by bike (and falling in love with it) before I had a last day and a half to explore Palma — which itself was so much bigger and more amazing than I expected for a small island city!
Here were my simple notes on Palma, with photos below!
PALMA
–Hike up to Bellver Castle: most lovely walk and view from this castle perched on a pine-covered hill. The castle grounds are also so cool to explore. Bonus, they are free on Sundays if you happen to be there over one. Otherwise it's a very small fee to enter. I think it's worth it to go up for the view alone, but also loved walking all through the castle grounds.
The city's San Juan Mercado Gastronómico is a fun area for foodies. It offers plenty of culinary variety and a fun atmosphere with locals and tourists alike!
The Museum of Mallorca in the heart of the Old Town, to learn about the city's past.
Can Pere Antoni is Palma's best stretch of sandy beach closest to the city.
Catedral-Basílica de Santa María de Mallorca– you can't and won't miss seeing this stunning cathedral, a centerpiece of Palma and completely breathtaking!
Just outside of Palma's Old Town is Santa Catalina, with a fun mix of restaurants and atmosphere…only if you've had a few nights within Old Town to eat and explore.
Hotels: We used points and stayed at the AC Marriott Hotel in Palma- it ended up being great location for us with our bikes, etc…but it is set outside the winding Old Town, FYI. It is next to it and we walked into Old Town each night, but did like the hotel!
FOOD:
My parents and I ate here on our last night in Palma after Chase had flown out…love the memory!
Fervor Palma is the prettiest restaurant with yummy Spanish dishes to match. It's right within old town tucked on a little side street. Inside is the best food & atmosphere. It's the perfect place to try Spanish croquettas, paella, and other small plates that will give you a modern taste of Spain.
Riva Reno, one of the best gelato chains from Italy is in Palma. A MUST. Every flavor is incredible.
Bar Coto – fun setting in Old Town with amazing food! Gets packed every night!
St. Lorenzo Tapas – On my final solo day in Palma, I met a girl who was coming off a solo hiking trip through the island. She told me about St. Lorenzo for dinner as an amazing tapas place. Only once I was there did I even realize it's an entirely gluten free restaurant, but you would never know even if you do eat gluten. It just makes for even more creative dishes, and the flavors were unbelievable. I loved this place and highly recommend! Get the truffle ravioli, paella, pizzas, croquettes, salads…cannot go wrong!
No trip to Mallorca is complete without trying the island's most famous pastry – the ensaimada. Experience one at the classic cafe Ca'n Joan De S'aigo. Make sure to pair it with a thick Spanish hot chocolate!
Joan Segui Panaderia – most famous bakery, if you drive outside Palma to town of Inca, get an ensaimada here!
The rest of the island:
Palma itself is so enjoyable that you could completely miss the rest of this rugged, beautiful island! Lucky for us we got to see it all by bike (see the post here for tips on the rest of the island) but a few notes below as well:
Drive the rugged north coast, which has historically served as a hideaway for nobles and artists. You'll fall in love with the limestone cliffs rising above the Mediterranean, and views from the Serra de Tramuntana mountains. Terrain filled with almonds, figs and olives.
See or stay at the Pink Gran Hotel Son Net above the town of Puigpunyent
Hamlet town of Deia
Hike peak Puig de na Baucana
Take coastal road toward Tramuntana and stop at village of Banyalbufar, eat at Restaurant I cafe Bellavista
Son Marroig Tuscan building
La Residencia in Deia
Ca's Patro March restaurant on the water: hidden place, clinging to the cliff
Hike in Deia from Cala Deia to town of Llucalari
Bens d'Avall restaurant along the coast toward Soller
Rafa Nadal Academy – For any tennis fans, a stop in Manacor!
---