scottsdale arizona getaway (and guide!)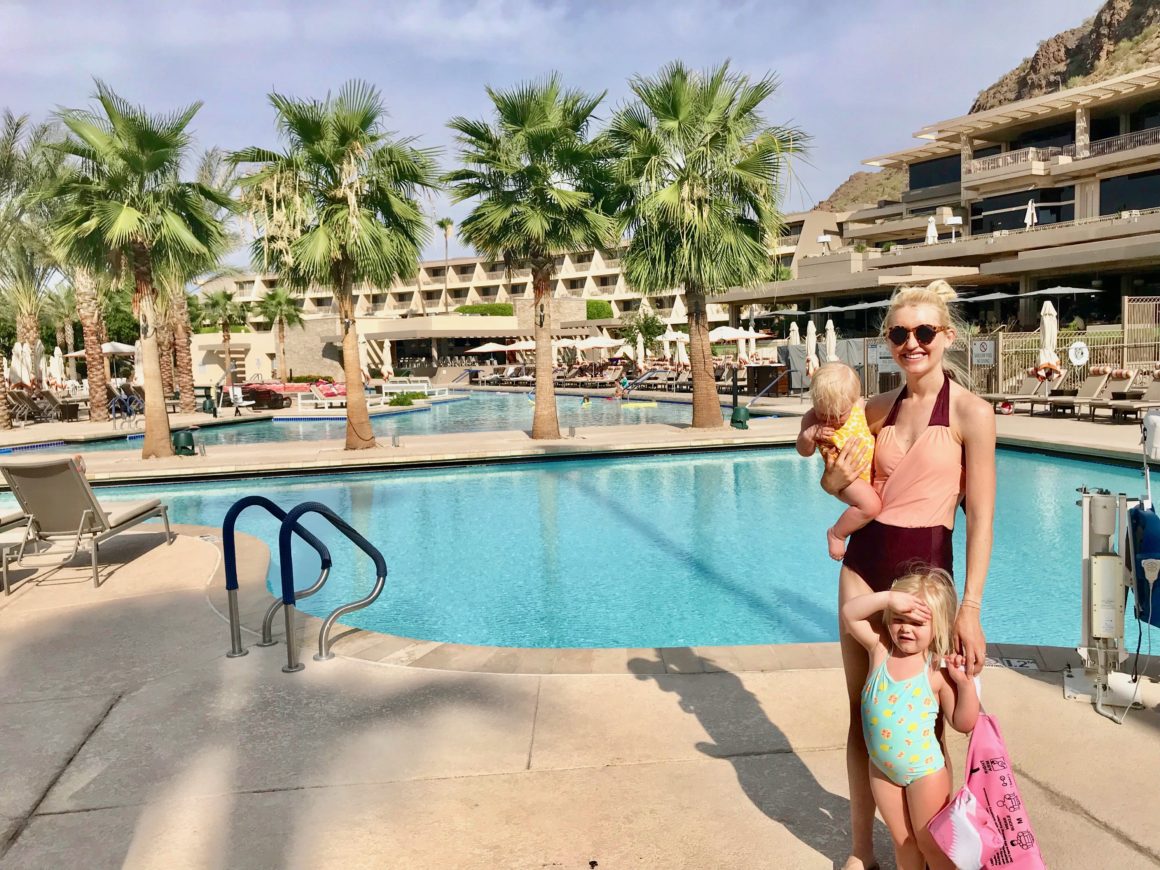 We started off our summer travels in the desert heat of Arizona!
There is nothing like Scottsdale for a getaway. Every time I go I feel relaxed and on vacation! Being in the desert makes you want to just enjoy, eat well, and lounge…especially during the summer! I had only been to Scottsdale during the winter months prior to this, and that summer heat this time was no joke…but we still loved every second! We went back to The Phoenician where I had stayed on a girls trip last year. It is a little slice of heaven on earth and was so fun to be back with my little family! It had something for all of us between early Camelback hikes, swimming in the different pools, doing the splash pad and kid activities all day, the big water slide, golf course, restaurants and also poolside ordering (the best!), Cabanas, and just the prettiest setting. We barely even wanted to leave our hotel because we loved it so much, (and due to the heat :) Luckily there was plenty to do right there, and we only left a few times to shop, eat in Old Town, and – highlight – see some family who was also in town for a conference!
If you haven't been to Scottsdale, it has so much to offer. Here is a little list of some favorites..with photos from our trip below!
S C O T T S D A L E favorites
Bandera – one of our very favorite restaurants ever!
Diego Pops (tacos!)
Mowry & Cotton – at the Phoenician, and seriously every single item is worth trying. One of my favorite places to eat anywhere!
Sugarbowl for dessert!
La Grande Orange for breakfast
Oregano's fun pizza place
Snooze- amazing breakfast/ brunch!
Original Chop Shop for healthy amazingness
Sauce is yummy pizzas/pastas/salads
Postino – all different kinds of amazing bruschetta and small plates!
The Mission TACOS
The Henry!! Where Michael Phelps loves to eat :) It's a gorgeous restaurant and so delicious.
Stetson Chopped salad at Cowboy Ciao (now only location is in the airport!!!)
Carolina's in Phoenix– for their amazing tortillas… get them with just the butter & you'll be in heaven!
We love staying at The Phoenician right on Camelback Mountain. It's a dream!
Hike Camelback Mountain
Hole in the Rock for an easy hike with kids, by the zoo
LAST CHANCE Nordstrom is always a must stop for some deals!
Shopping at Fashion Square
Walking Old Town Scottsdale
---