Homemade dips: Hummus, black bean dip, and pesto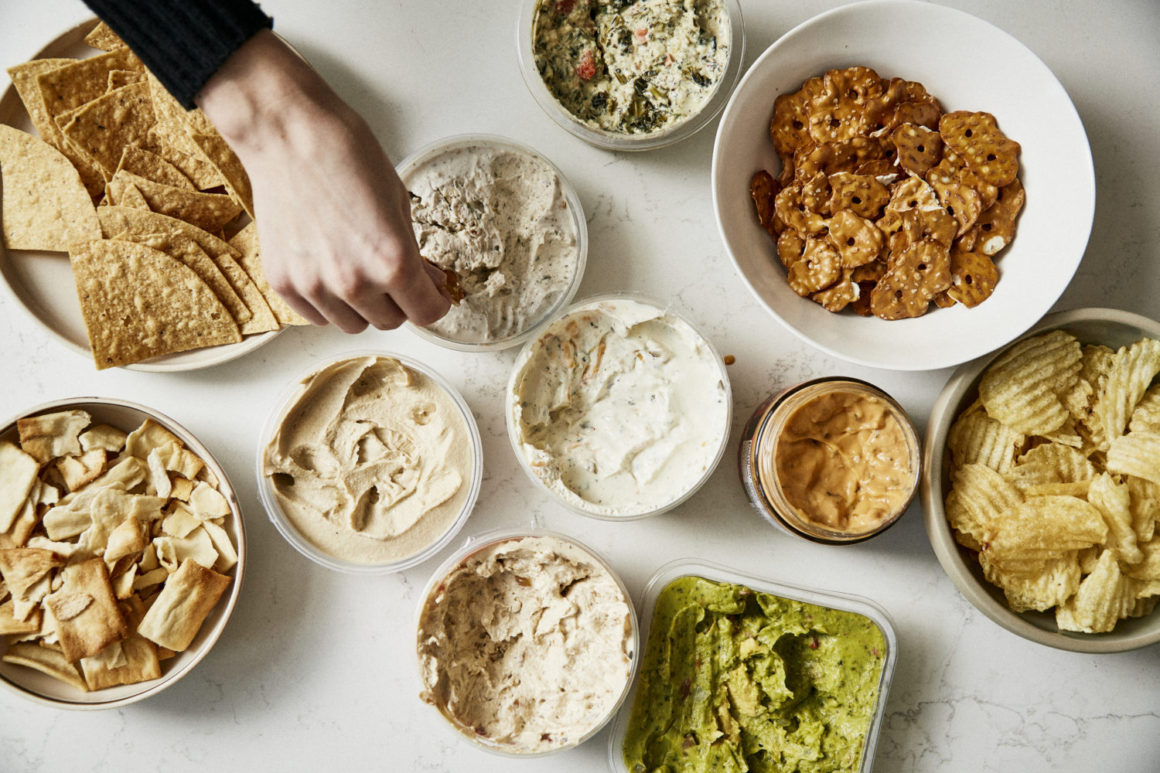 We're so excited to start off summer picnics, barbecues, and parties with all the food + fun that go with them! Recently I've been loving whipping up my own hummus / pesto / any other dips because everything is so fresh and even tastier and healthier this way! It is so easy to grab a tub of hummus at the store, but it's also pretty much as easy to make as a smoothie… so I dropped the excuse and we've been experimenting with different dips, flavors and add-ins! I've been loving everything from red pepper hummus to black bean dip to pesto … and of course different things to dip into them! Our favorites uses are: as a sandwich spread, a dip for veggies, or a board with crackers! My girls love crackers and could eat them all day long, so I like getting healthier versions of them. Almond flour crackers from Simple Mills have been our favorite so far! We've loved trying out a few varieties. Below I'll share some favorite dip recipes to go with whatever you're dipping!


Dip recipes:
Basic Hummus
1 can chickpeas (15 ounces), drained and rinsed
1/4 cup fresh lemon juice (1 large lemon)
1/4 cup stirred tahini
1 garlic clove, minced
2 tablespoons extra-virgin olive oil
1/2 teaspoon ground cumin
Salt to taste
2 to 3 tablespoons water

Combine the tahini and lemon juice in a food processor and process for 1 minute. Scrape the sides and bottom of the bowl and then process for 30 more seconds. All this time helps to sort of "whip" the tahini into a smooth and creamy texture.
Next, add the olive oil, minced garlic, cumin, and a 1/2 teaspoon of salt to the whipped tahini and lemon juice. Process for 30 seconds, scrape the sides and bottom and process another 30 seconds until well blended. Add half of the drained and rinsed chickpeas to the food processor and process for 1 minute. Scrape sides and bottom of the bowl, then add remaining chickpeas and process until thick and really smooth, 1 to 2 minutes. The hummus may still be too thick at this point, with some tiny bits of chickpea. If so – turn the processor on and slowly add 2-3 tablespoons of water until it is the right consistency! Taste and add salt if needed. Serve in a bowl with a drizzle of olive oil and a dash of paprika.

** This basic recipe can have a lot of variations! We like adding some roasted red peppers into the mix, and the other flavor options are endless…sweet potato, pumpkin, extra garlic, avocado, and more!
Black bean dip
Combine the following in a blender:
-1 can black beans (rinsed & drained)
-Salt & pepper
-Garlic salt
-Cumin
– Squeeze of 1 lime
– Drizzle of olive oil
BLEND and adjust to taste! Great to dip or as a side.
Pesto
2 cups fresh basil leaves (can replace with spinach, kale or arugula but it will change flavor of classic pesto so I prefer basil)
1/3 cup pine nuts (can replace with walnuts, pecans, pistachios, or almonds)
1/3 cup grated parmesan cheese
3 cloves garlic
1/3 cup olive oil
1 teaspoon fresh lemon juice
1/2 teaspoon each salt and fresh ground pepper

Blend the basil, pine nuts, cheese, and garlic together in a food processor or blender. Pour oil in slowly while still mixing (or a little at a time, then mix, then more oil, then mix again..). Scrape down the sides, then add lemon juice, salt, and pepper. Pulse until everything is blended together and pretty smooth. Taste and add more salt + pepper if needed.
Use right then, or store in a sealed jar and refrigerate for up to a week. It can also be frozen for 2-3 months.
Guacamole
1.5 avocados
1-2 tbsp salsa
Juice of 1 lime
Salt to taste
Use hand mixer to mix it up!
Hope you make and enjoy these yummy dips !
---