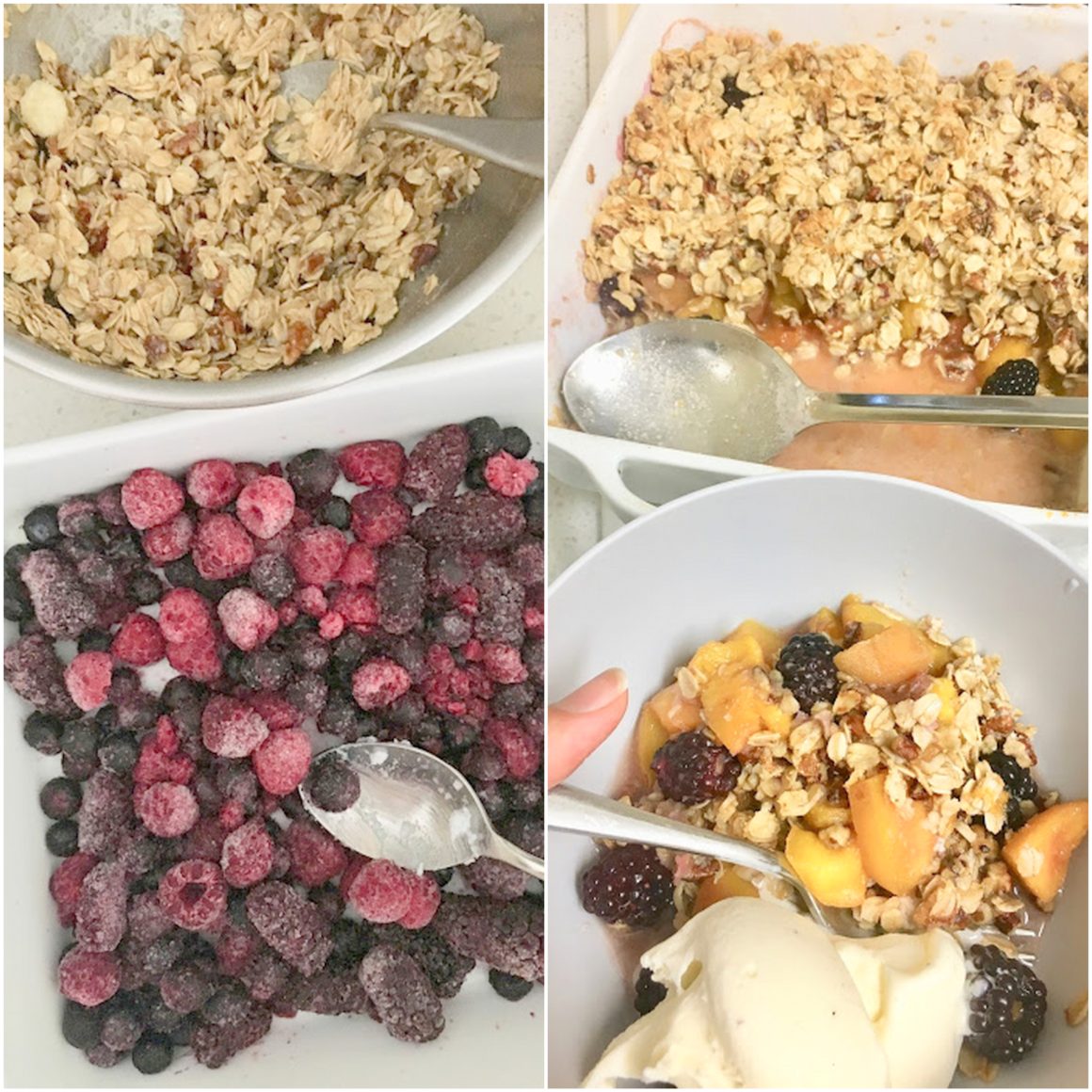 ---
i discovered this healthy + delicious version of a fruit crisp when i was pregnant with claire, and have made it so often since. through the summer before having her i was making it weekly! it's irresistible to make all summer when berries and peaches are everywhere, but i've been loving it just as much in the winter and decided to post it. it's so easy to even just throw frozen berries in a pan, and top with the easy crumble. the best part is, any fruit can work in here and it leaves you feeling light but satisfied. *although it's all clean ingredients, i usually can't help but add a scoop or two of vanilla bean ice cream to it :) to keep it healthier you could whip some coconut cream (take the separated thick part out of the can and whip it)..but i think we can all handle a little ice cream on the side since the crisp is healthier :)
4 cups fruit {fresh or frozen} i have used frozen mixed berries from costco, cherries, peaches, apples, can't go wrong!
1 cup old fashioned oats
1/2 cup chopped pecans {can sub almonds or walnuts}
1/2 cup almond flour
1/4 cup pure maple syrup {can sub honey}
1/4 cup melted coconut oil
1/2 tsp sea salt
preheat oven to 350. add the fruit to a sprayed 8×8 dish.
mix the rest of the ingredients and spread onto the fruit. bake for 35-40 minutes or until fruit is bubbling and topping is golden brown.
///////////////////////////////////////////////////////////////////////////////////////////////////////////////
// i also have been making this fancier version that is more of a tart made with oats, but so delicious and still healthy!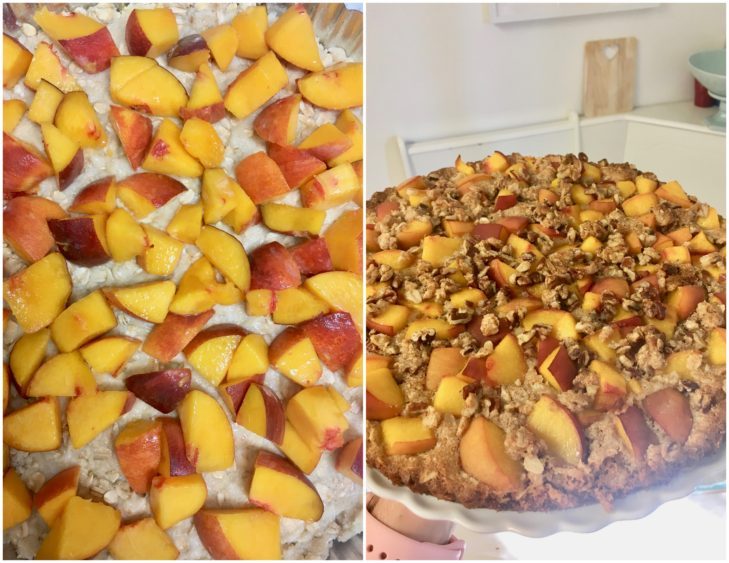 fruit crisp tart with oat crust
ingredients
for the filling
2 cups fruit (love using fresh blueberries or peaches)
1 tablespoon maple syrup or honey
2 teaspoons tapioca starch or corn starch

for the crust
1 cup almond flour
3/4 cup old-fashioned oats
1/4 cup maple syrup or honey
1 teaspoon baking powder
1/2 teaspoon salt
5 tablespoons solid coconut oil
2 tablespoons chopped pecans
directions
preheat the oven to 350°F and lightly grease a 9-inch tart pan with a removable bottom. set aside.
add fruit, honey or maple syrup, and tapioca/corn starch to a medium bowl and toss until coated. set aside while you make the crust.
add the almond flour, oats, honey /maple syrup, baking powder, and salt to a different bowl and whisk until combined. add the coconut oil and use your fingers to work it in until coarse crumbs form and the mixture holds together when pressed.
remove a heaping 1/2 cup of the crumbs for the topping and pour the remaining crumbs into the prepared tart pan. press the dough evenly into the pan. pour the fruit mixture over the crust, making sure the juices stay behind in the bottom of the bowl.
add the chopped pecans to the remaining crumble and sprinkle evenly over the top of the fruit.
bake for 40-45 minutes or until the filling is bubbling and the crust is lightly brown. at around 20 minutes, you can tent the tart with foil to prevent it from getting too brown. let it cool completely before slicing into wedges and serving.

this tart gets better with time and will be just as good a few days later. also, if you don't have a tart pan– this recipe works as bars. just bake in an 8×8 pan and then slice into small square cookie bars.


---