favorite quiche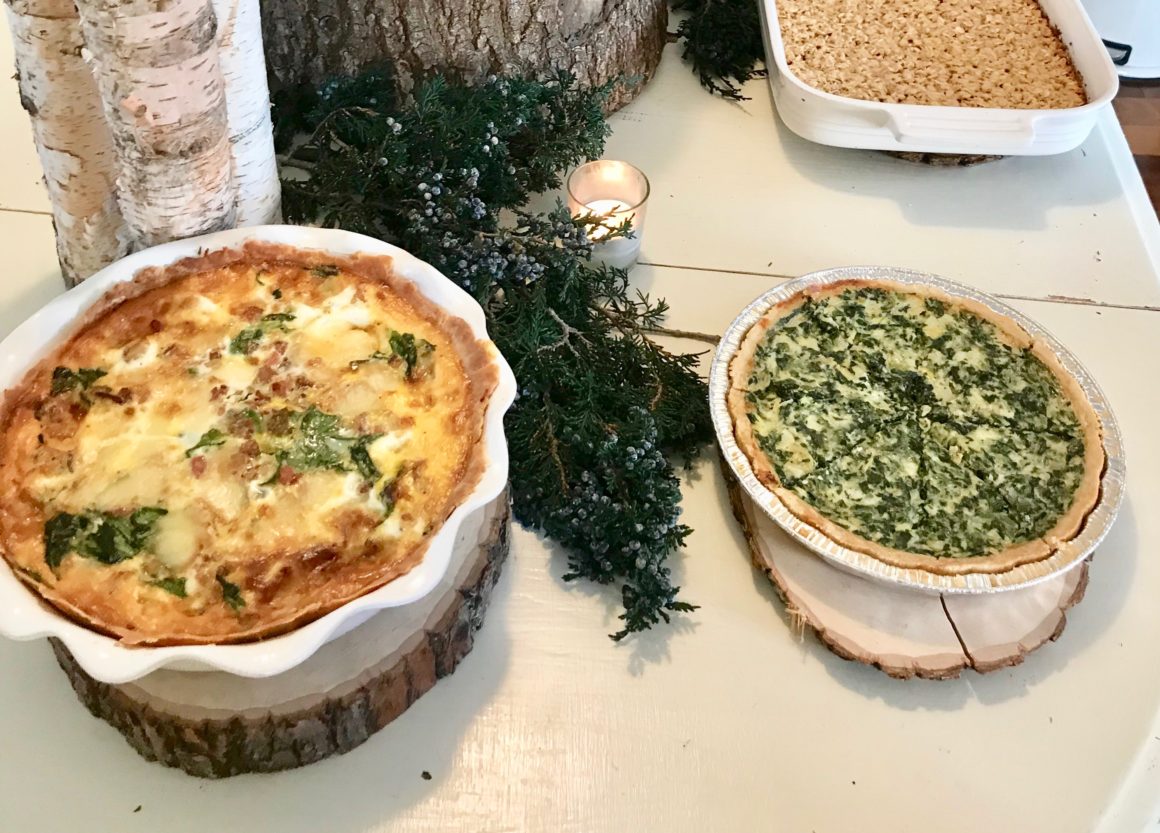 Who doesn't love quiche? It's such a perfect special occasion brunch food that has always been a favorite of mine. It feels fancy but really is pretty easy to put together on your own, so here are some tips and a basic recipe that can be tweaked for whatever you have!
First: Crust! This is a good, simple and flaky crust for quiche.
(This is for a little smaller pie tin, so you can double this for a thicker/taller crust)
1 cup flour
1/2 teaspoon salt
1/4 cup olive oil or canola oil
1/4 cup ice water

Mix flour and salt with fork
Beat oil and water with whisk or fork to thicken
Pour into flour and mix with fork
Press into 9" pie crust
Fill with quiche mixture and bake at 400F until done
Quiche filling:
6 large eggs, beaten
1 cup heavy cream + 1 cup milk (or 2 cups heavy cream)
2 cups chopped fresh baby spinach, packed
1 pound cooked/crumbled bacon
1.5 to 2 cups Gruyère or Swiss cheese (unexpected cheddar from Trader Joe's is also so good in it!)
Sautéed /caramelized onion (optional)
Salt & pepper
Combine the eggs, cream, milk, salt and pepper in a blender. Layer the spinach, bacon and cheese in the bottom of the crust, then pour egg mixture on top. Bake uncovered on the bottom rack for 30 minutes at 400, then turn oven down (don't open the door) to 375 and bake an additional 15-20 minutes. It's done when the eggs are set and quiche is golden on top. Remove from the oven and let it sit for at least 15 minutes before cutting.
*Other baking option: You can first blind bake the crust at 400 for 10 min and then bake quiche at 375 for 45 minutes if you prefer.

You can get creative and mix + match different veggies/meat. The basic formula to use is about 3 cups of sautéed veggies to 1 cup of meat. Favorite options are broccoli, asparagus, mushrooms, ham, etc.Bake uncovered on bottom rack for 30 minutes at 400 and then turn oven down (without opening oven door) to 375 and bake for an additional 15-20 minutes, or until eggs are set and the quiche is golden on top. Remove from oven.
*For quiche at home during the week for our little family (instead of weekend brunch or for a special occasion), I love to do a lightened up sweet potato crust. It sounds tricky but it's actually so easy and good!
Ingredients
2 medium sweet potatoes
1 tsp extra virgin olive oil
Preheat oven to 350.
Slice sweet potatoes in thin circular cuts using either a mandoline or a knife. (No need to peel!)
Spray a pie dish with olive oil spray. Arrange the sweet potato slices in the dish, starting with the bottom of the dish first, and then the sides. If your sweet potatoes are large, you can cut the circular slices in half for the sides of the pie dish. As long as they are all semi-layered over each other, whole or half circular slices will work!
Once you've arranged your "crust", spray with olive oil spray, sprinkle with salt and pepper, and bake for 15 minutes.

Then follow quiche filling instructions above!
Happy brunching!
xo
---