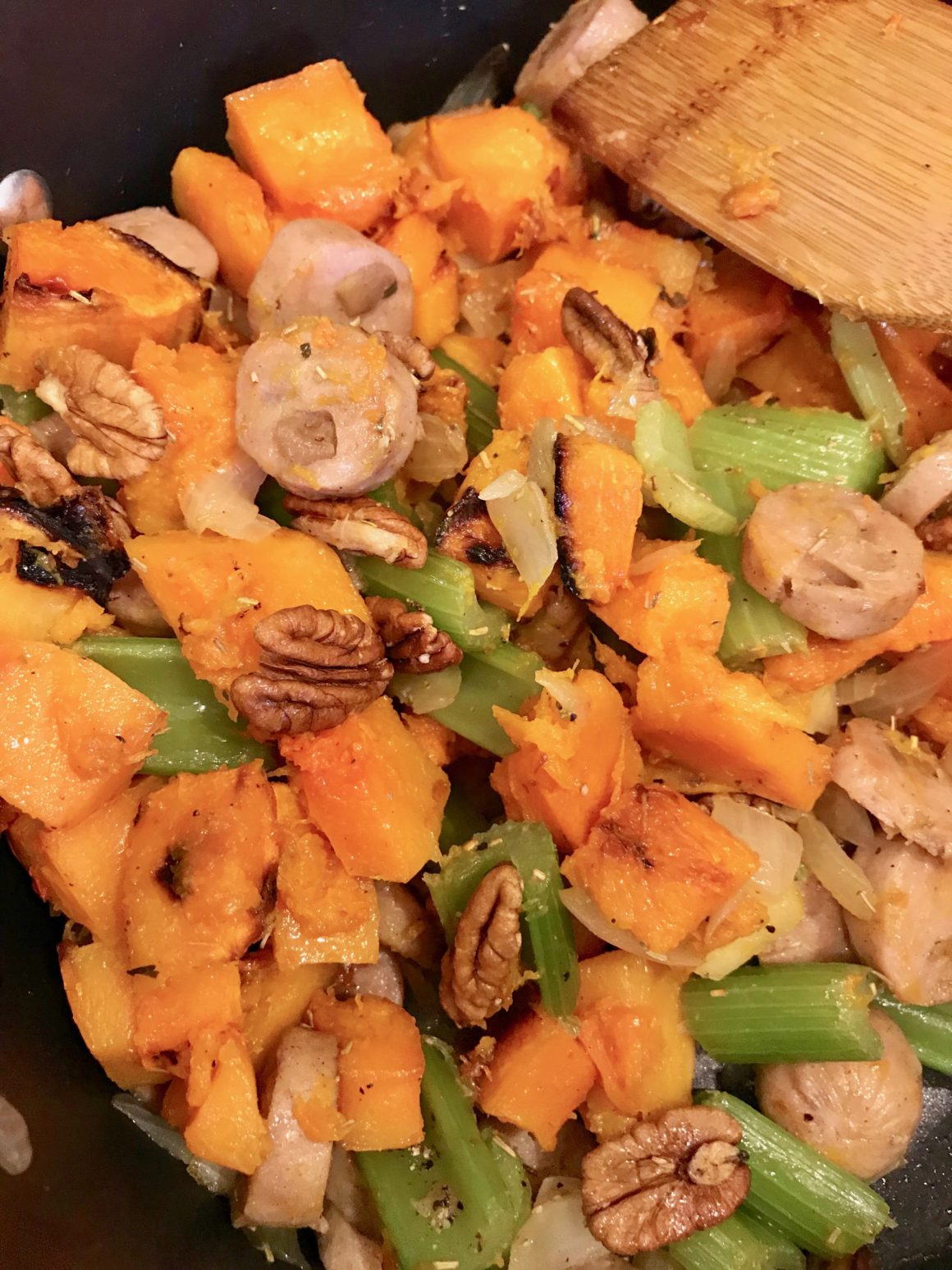 ---
Stuffing is arguably my favorite Thanksgiving/holiday dish. I love to make this good classic one with alllll the bread and butter, but for the rest of the time this is an amazing healthy substitute! It actually would be a huge hit at any holiday table even in place of the classic. It's so satisfying and amazing…a baked hash made with butternut squash, chicken sausage, dried cranberries and all the stuffing herbs.
Ingredients
1 butternut squash, peeled and cut into cubes (about 4 cups)
4 tablespoons olive oil, divided (can also use ghee butter)
3/4 teaspoon salt
1 yellow onion, diced
3 celery stalks, diced
1 pound chicken sausage, sliced + casing removed (we love chicken apple, but you can use any kind you like)
1 large honey crisp apple, diced
2 teaspoons fresh rosemary, chopped
2 teaspoons fresh parsley, chopped
1/2 teaspoon pepper
1/2 cup dried cranberries
Instructions
Heat the oven to 425 degrees. Toss the butternut squash pieces with 2 tablespoons of olive oil + salt, then scatter on a parchment lined baking sheet.
Roast for 30-40 minutes until soft and browning. While roasting:
Heat a large cast iron or oven-safe skillet to medium high heat with 2 tablespoons olive oil. Add the onion, celery and a pinch of salt. Cook for 3-5 minutes. Add the sausage to the skillet and cook, about 3-5 minutes.
Add the chopped apples and cook until just soft, about 3-4 minutes. Add the rosemary, parsley and pepper and let cook for 2 minutes.
When the squash is done roasting, add it to the cast iron along with the cranberries. Stir to combine. You can always transfer everything to a bigger baking dish at this point if needed.
Lower oven heat to 375 degrees and bake for 15-20 minutes until crispy on top.
Y U M !
---