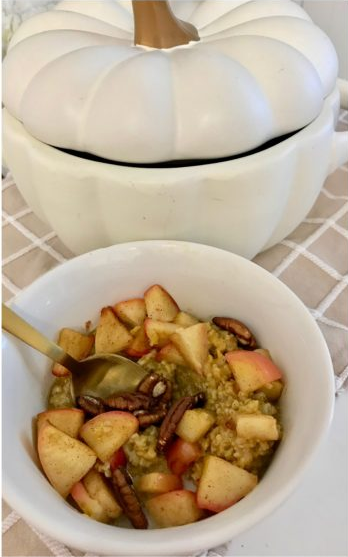 ---
i made these for halloween morning breakfast and we all loved. the creamiest + most fall-ish breakfast, and still healthy yet so satisfying! the apples are an extra step, but very worth it. yummm! recipe below serves 2.

..for the oatmeal..
1/2 cup pure pumpkin puree
2/3 cup oats
1 1/3 cups almond milk (or regular)
4 tablespoons pure maple syrup (or to taste)
1 teaspoon pumpkin pie spice

..for the sautéed apples..
1 teaspoon coconut oil
2 teaspoons pure maple syrup
1 apple diced
1/2 teaspoon pumpkin pie spice
4 tablespoons chopped pecans
directions
combine the pumpkin puree, rolled oats, almond milk, maple syrup, and pumpkin pie spice in a saucepan. let simmer until the oats have thickened, between 5-8 minutes. stir occasionally.
meanwhile, melt coconut oil in a pan. add the diced apple pieces, maple syrup, and cinnamon. sauté for around 5 minutes until apple pieces are slightly softened, around 5 minutes. toss in the chopped pecans.

serve the oatmeal in a bowl topped with sautéed apples. enjoy! i will crave this the rest of the year!
---