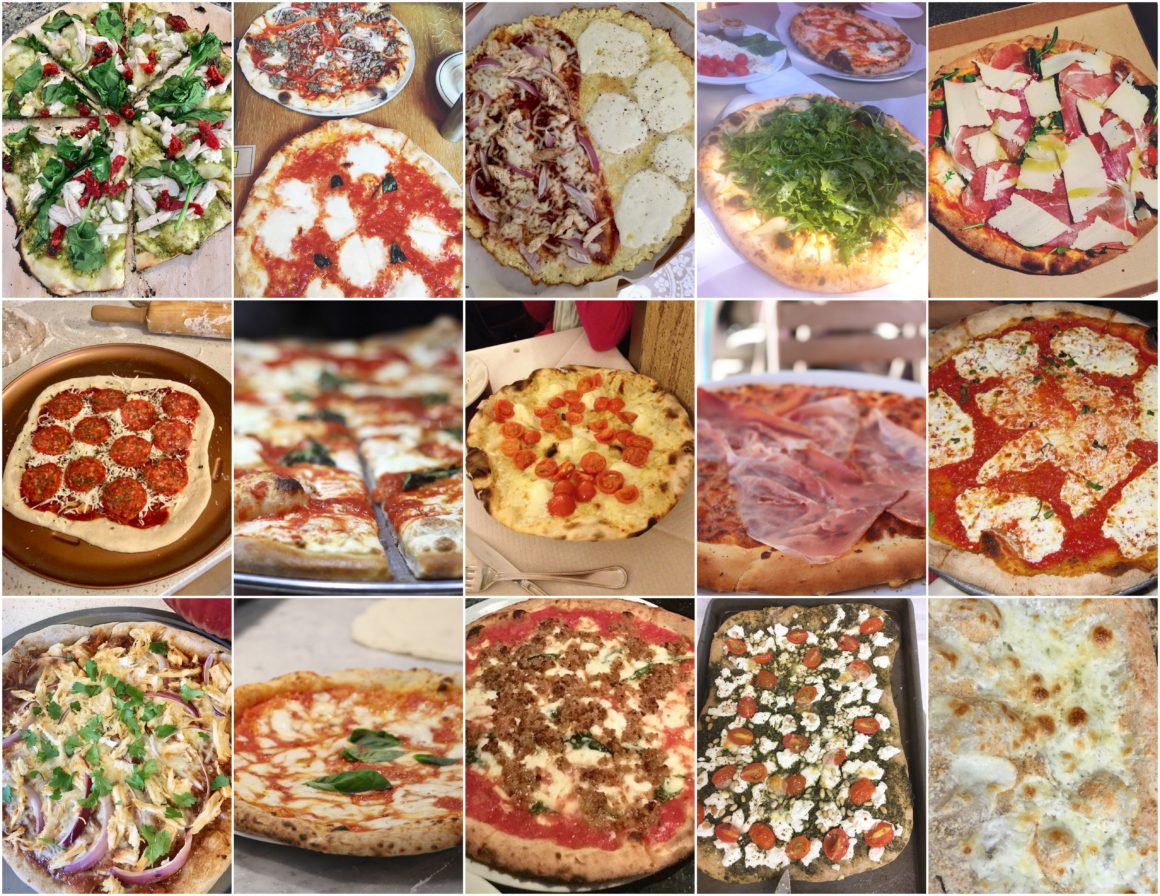 ---
Homemade pizza is the best! It's always fun to make and have a pizza night at home.
We just started making our own cauliflower crust which makes it a little healthier meal,
which means we can do it more often! As we have more kids I want to be one of those families
with a standing pizza night each week – I'm thinking on Fridays, so that I can use up random veggies
and things in my fridge before the weekend and throw a pizza party + movie night or something! :)
There are so many fun topping options, so I wanted to list some here (to share, and also
for me to go back to  — these are ones we love and repeat!) I get most of our pizza toppings at
Trader Joe's, (+ their pizza sauce), and also love their easy cheap pizza dough if I don't make my own.
These are all just combos listed below (and a few links), so you have to estimate amounts … but I love cooking that way.
Pizza topping combos:
​–​ Burrata + pepperoni + mozzarella + basil + tomato sauce
— BBQ sauce + cooked chicken + red onion + mozzarella + cilantro
— Roasted sweet potato + red onion + kale + balsamic + mozzarella (based on this recipe)
​– ​Arugula, volpi pepperoni, quattro formaggi, pizza sauce, burrata​
–​ Mozzarella, sundried tomatoes, pepperoni and pine nuts
— Ricotta + sliced mozzarella + sliced pear + red onions + arugula + pine nuts. Drizzle with balsamic vinegar and honey, sprinkle with oregano
— TJ's Pizza sauce, sausage, roasted peppers & onions mix from TJ's, mozzarella
— Pesto + ricotta (or mozzarella) + sundried tomatoes + pine nuts
— White pizza with parm, fresh mozzerella, and lemon arugula (link here!)
— Ricotta + olive oil + garlic + peach slices + burrata + arugula (after baking) + salt and pepper
— Brussels sprouts + salami + shallots + mozzarella (this recipe)
— Thai chicken pizza: chicken, mozzarella, shredded carrots, red onion, chopped kale or spinach, red onions, cilantro, peanut sauce (2 Tbs PB, 4 Tbs. salsa, 1 tsp. raw honey, 1 tsp. soy sauce)
For CRUST:
I like to make my own whole wheat, or buy the easy good one at Traders!
I also have figured out homemade cauliflower pizza crust recently, going off this basic recipe.
You just stretch or roll the dough out, spread the sauce you're using, and sprinkle with cheese and toppings to your liking!
You can follow your crust directions for baking the pizzas, but normally we bake at 425 for about 7-12 minutes, or until crust is golden brown and cheese is bubbling. It's also fun to grill pizzas during the summer! *For cauliflower crust, be sure to pre-bake the crust for at least 20 minutes before then adding toppings and baking again.
A few months ago I found this airbake pizza stone that I have loved, but before that I mainly did sheet pan pizzas which are easy and good too!
Happy pizza eating!
xo
---