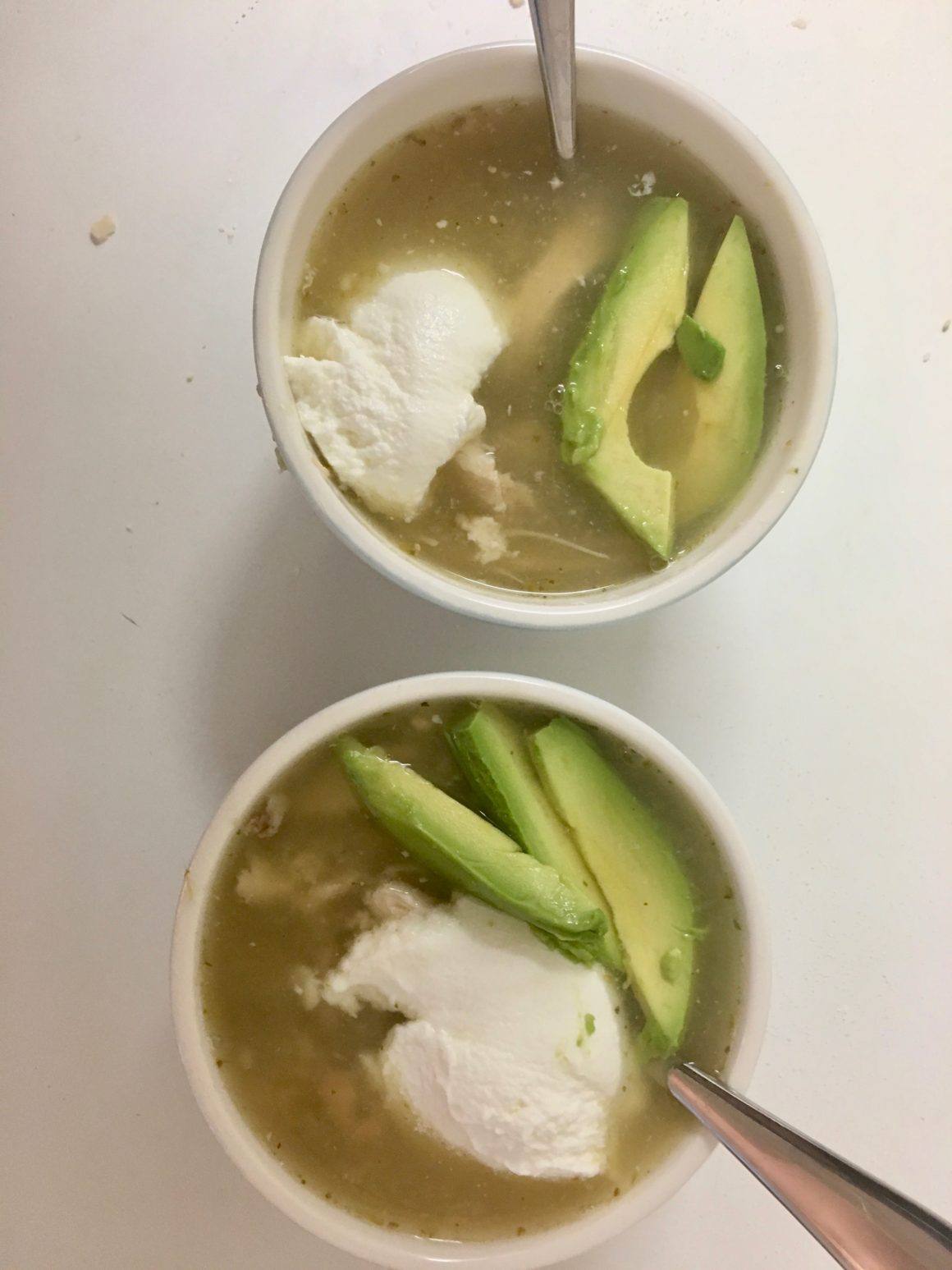 ---
Salsa Verde chicken is one of my favorite flavors! It's simple and versatile. I love both of these recipes and rotate through them often..the soup with chips and sour cream on top, and the chicken for taco night! Both below:
White Bean Chicken Salsa Verde Soup

This recipe has 5 ingredients and is a perfect weeknight meal.
We loved it at our house and it's a nice break to have an easy
simple and flavorful recipe in between all of the holiday food!

Ingredients:
6 cups low sodium chicken broth
2 large boneless skinless chicken breasts (about 4 cups)
2 (15-oz.) cans white beans, drained 
2 cups salsa verde
2 tsp. ground cumin
1 can corn (optional)
Juice of 1-2 limes


**Good toppings: sour cream, avocado, cilantro, shredded cheese, tortilla chips, LIME**
If you have cooked chicken, you can whip this up on the stove in no time. Just combine all ingredients except lime. Bring to a boil, then cover and let simmer for at least 10 minutes or until ready to serve. Squeeze plenty of lime juice in, and add the toppings!

If you have raw chicken and want to do slow cooker:
Add chicken broth, chicken breasts, beans, salsa, and cumin to a slow cooker and stir to combine. Cook on low for 6-8 hours, or high for 3-4 hours until the chicken is cooked through and shreds easily with a fork. Shred the chicken and serve warm with desired toppings.
I also make a simple salsa verde chicken for tacos or salads with similar ingredients in the slow cooker:
6 boneless, skinless chicken breasts // 2 cups salsa verde // 1.5 cups chicken broth //2 teaspoons cumin// salt and black pepper
Put the chicken in the slow cooker, topping with salsa verde and broth. Sprinkle with cumin and season with a few pinches of salt and a pinch of pepper. Use tongs to turn the chicken so that both sides are coated. Cover and cook for 3-4 hours on high heat, or 7-8 hours on low heat.
The chicken is ready when it easily shreds with a fork. Shred the chicken in the slow cooker, and toss with the juices. Remove the chicken with a slotted spoon and serve warm. Or you can store the shredded chicken in a sealed container in the refrigerator for up to 5 days, or in the freezer for up to 3 months.
xo
---