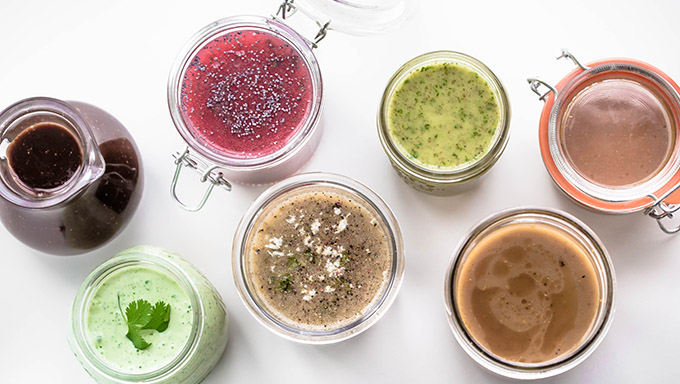 ---
I rotate between a few main salad dressings and always have them in my fridge for salads!
I thought I'd share them here because they are simple, easy, delicious and healthy with no added sugars.
The best part is they are all versatile and can be used on different types of salads – Cobbs, salads with fruit, etc.
These are all in amounts to fill a bottle or mason jar– if you want it just for one salad, you can half the amounts!
Below the dressings I'll also list a few simple salad combinations to make at home and top with these dressings,
since I always snap my salads that I make at home and get questions about favorite combinations!
Yellow Vinaigrette
4 tsp Dijon mustard
4 cloves minced garlic
1/2 cup white wine vinegar
1 tsp salt
1/2 tsp pepper
2/3 cup olive oil
Bleu cheese crumbles (optional)
Shake together in a bottle and dress any type of salad!
This is especially good on a salad with fruit: pears, blueberries, pecans, bleu cheese!
Homemade Balsamic Vinaigrette
1/4 cup balsamic vinegar
3/4 cup olive oil
1 tablespoon chopped garlic
1/2 tsp salt
1/2 tsp pepper
Shake together in a bottle and dress any type of salad! I love it on Cobbs, strawberry spinach salad, seriously anything!
Kale Salad Dressing
4 cloves minced garlic
1 Tbsp. white wine vinegar
3/4 cup olive oil
1/3 cup shredded parmesan
salt & pepper, to taste
Blend dressing ingredients in a blender until smooth.
Pour over kale salad and top with pine nuts and parmesan cheese. ENJOY!
Honey Vinaigrette
1/3 cup olive oil
3 tablespoons white wine vinegar (or sub balsamic)
2 tablespoons honey
1/2-1 teaspoon salt
Tangy Balsamic Vinaigrette
1/4 cup balsamic vinegar
1/4 cup Dijon mustard
1/4 cup soy sauce
1 teaspoon kosher salt
1/2 teaspoon freshly ground black pepper
1 cup extra-virgin olive oil
1 to 2 tablespoons honey (if desired)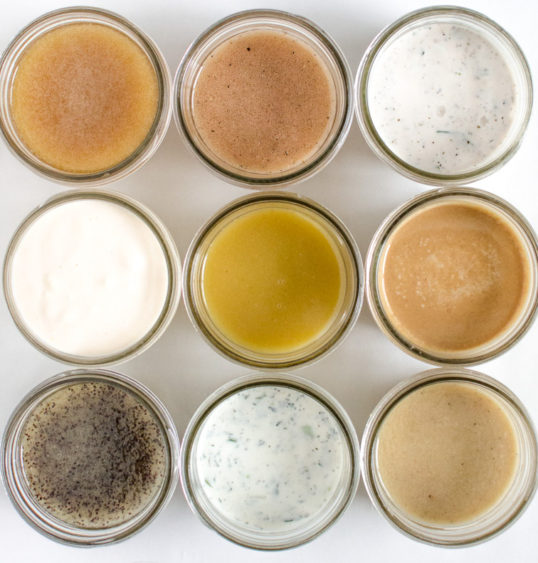 Favorite salad tips and combos:
○ For greens I love to get fresh spinach, baby kale, arugula, and romaine. Then I usually combine a few greens into one salad. Traders has the best sizes of these that last me a week! A few toppings combos:
○ Grilled chicken, avocado, apples, grapes, bacon, feta & pecans on spring mix or any greens
○ Cobb: Cherry tomatoes, Gorgonzola or Bleu Cheese from Traders, Hard-boiled egg, Avocado, Bacon, Chicken…best with a crunchy romaine.
○ Strawberries, pears, beets, blueberries, gorgonzola cheese, pecans.
○ Pomegranates, pistachios pieces,brussel sprout shavings, parmesan flakes, pine nuts
○ Heirloom tomatoes, sliced red and yellow peppers, homemade sourdough croutons, feta
○ Peaches/nectarines, creamy mozzarella cheese, fresh basil
○ Sweet potatoes, apples, quinoa or wild rice, feta or goat cheese, sliced almonds
etc etc etc! The combinations go on and on. I like to use what I have in my fridge that's in season and get creative.
Happy salad eating!
xo
---