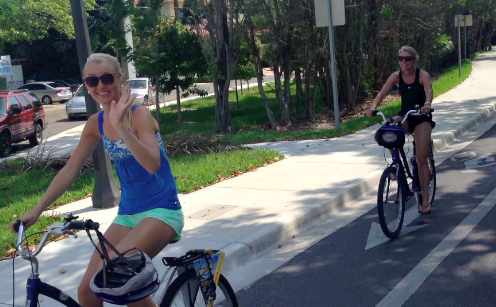 ---
As far as states go, Florida is easily one of the most jam-packed when it comes to vacation destinations. If you've already lived the high-life in Miami and lived your childhood dreams in Orlando, then you already know this. But if you've never been to the Florida Keys, you're missing out! Just a quick trip from the mainland to Key West finds you in a whole other part of the state. 
Join the party
The lively atmosphere and bustling streets of Key West are one of the island's many famed points. It's the right place to go for fun! If you want to experience some of the best restaurants and bars in all of Florida, you'll find them here. There are local seafood restaurants like Seven Fish offering shellfish galore, the freshest tuna and shrimp, and even some more exotic tastes like dolphin. As close as it is to Cuba, it should be no surprise that it's one of the few real homes of Cuban cuisine in the US thanks to restaurants like El Siboney.
Get the best views
If you want a more relaxed experience of the Keys away from the hustle and the crowds, you can get that here too. The area is famed for its natural beauty, blue waters, and unending breathtaking coasts. There are local charters for parties of all sizes and for however long you want from providers like BOAT.ME. Perfect if you're not as interested in the nightlife and more in experiencing the scenery by water. Sailing off the coast of the mighty Dry Tortugas National Park is one sight you won't forget.
Take a closer look
There are plenty of coasts that deserve a much closer look. Key West isn't exactly full of the best beaches for lounging on, but if you don't mind putting on running shoes and walking on some rougher terrain, Fort Zachary Taylor State Park is a destination that's not as famous among visitors but easily worth taking the trek through. It's (somewhat) more comfortable than all of the others, but it's the chance of spotting the colorful tropical fish that make this beach truly magical. Then it's just a short trip to the fort itself, full of interesting stories about the island's military history and some preserved cannons from back in the days of the Civil War. Visit on one of the Civil War Heritage days in February and you might be lucky enough to see one of the re-enactments of what fort life was really like.
A paradise within a paradise
The tropical climate is perfect for a lot more than exploring old forts, and there are spots that help you see the kinds of life only possible in those climates. Butterflies aren't the most popular of wildlife trip requests, but when they're in the numbers and displays as you get at Key West Butterfly & Nature Conservatory, it will make you wonder why. There are hundreds of the winged beauties flying from place to place in a carefully constructed exotic environment, as well as plenty of beautiful flower displays, tropical birds, and water features.
The best tradition
It's something that almost everyone who visits Key West is going to do at some point, but we have to mention just in case you miss it for some reason. Mallory Square is perhaps the most famous part of the area besides Duval Street and for good reason. It provides the best view of the sunset you're going to get in the U.S., and every evening rings it in with a traditional celebration. Musicians, magicians, and street performers of all kinds join the crowds to create a nightly party atmosphere at sunset that can't be missed. The coasts are even kept clear of Mallory Square every evening to make sure that the view is undisturbed.
Whether it's miles of gorgeous coast, the buzzing (and often rowdy) nightlife or the fantastic spectacle of the daily tradition of Mallory Square, there are plenty of reasons to discover Key West if you haven't been already.
---