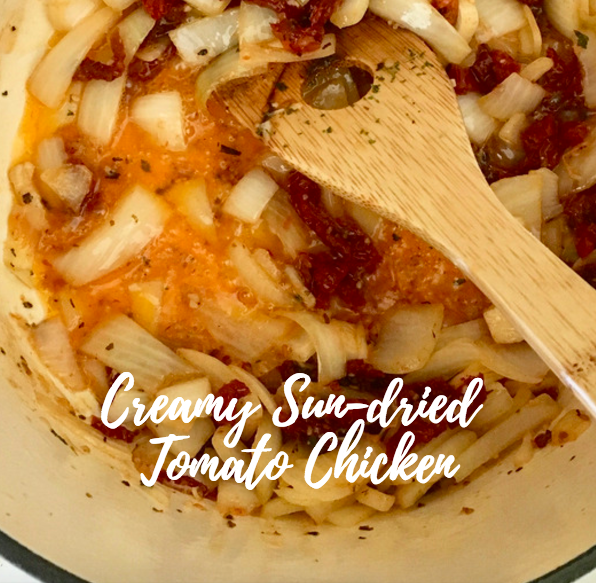 ---
My cute friend Paige and I love to share recipes. I swear we are so similar with our taste buds
and cooking style, so I always know I can trust any recipe rec from her! It's the same way with
our babies…her little girl is a year older than mine, so she is my guru with all things baby.
This recipe is definitely the best thing she has brought into my life :) It's AMAZING!
Trust me. It takes a little work on the front end, but it's so worth it on the back end.
I personally loved making it and of course eating it :) You'll lick the plate clean!
This recipe is your excuse to go get a Dutch oven if you haven't yet. If you don't
want to splurge on a Le Creuset, I have this one from World Market…
and it's perfect for this amazing bread too :) Original recipe here!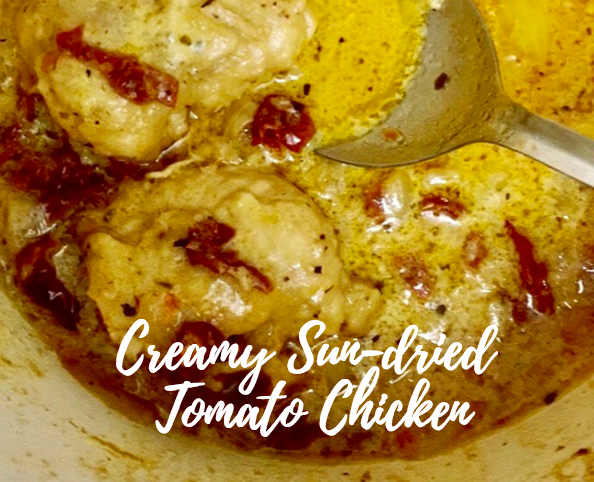 INGREDIENTS
1/4

 

cup

 c

orn starch (or unmodified potato starch)

1

 T

bsp

 salt

1

 

tsp

 f

reshly ground pepper

4-6 chicken breasts, (or 8 chicken thighs…original recipe calls for 

boneless & skinless thighs, but I always prefer chicken breasts. Either will work great!) 

3

 

Tbsp

 olive oil (*

divided and used at different times)

1

 y

ellow onion,

 d

iced thinly

3/4

 

cup

 sliced Sun-dried Tomatoes 

(the original recipe says not packed in oil, though I used ones that were and it still worked…just adds extra olive oil, so dry ones are best)

1

 

Tbsp

 minced g

arlic

 

minced

1

 

tsp Italian seasoning

 

(or shakes of oregano, thyme, & parsley)

large

 

pinch red pepper flakes (optional)

13.5

 

oz can coconut milk

1

 

cup chicken stock

 

or broth

Shredded basil

, to top

DIRECTIONS

Mix together the corn starch, salt, and pepper in a medium sized bowl. Toss the raw chicken in the mixture until fully coated.

Heat 2 T. of the olive oil in a large oven-proof frying pan or ceramic coated dutch oven. (I use

my dutch oven from World Market– this one

— and it's perfect!) Add the chicken, four pieces at a time, and brown on each side. When the chicken is all browned, remove it and set it aside.

Add the remaining 1 T. of oil to the pan and heat to medium/high. Add the sliced onion and sauté for 2 minutes. Add the sun-dried tomatoes, garlic, Italian seasoning, and red pepper and sauté for another 30 seconds.

Add the coconut milk can and chicken broth and bring everything to a boil.

Add the chicken back into the sauce, scooping the onions and tomatoes over the top of the chicken. Try to fit the chicken in a single layer if possible.

Cover Dutch oven with lid (or if using another pan, use an oven safe lid) and place it in the oven. Cook for 45 minutes at 400 degrees. After 45 minutes, reduce the heat to 300 and cook for another 20 minutes.

Remove from the oven and top with shredded basil just before serving. Try not to lick the plate!!!

Bon appetit!
xo
---