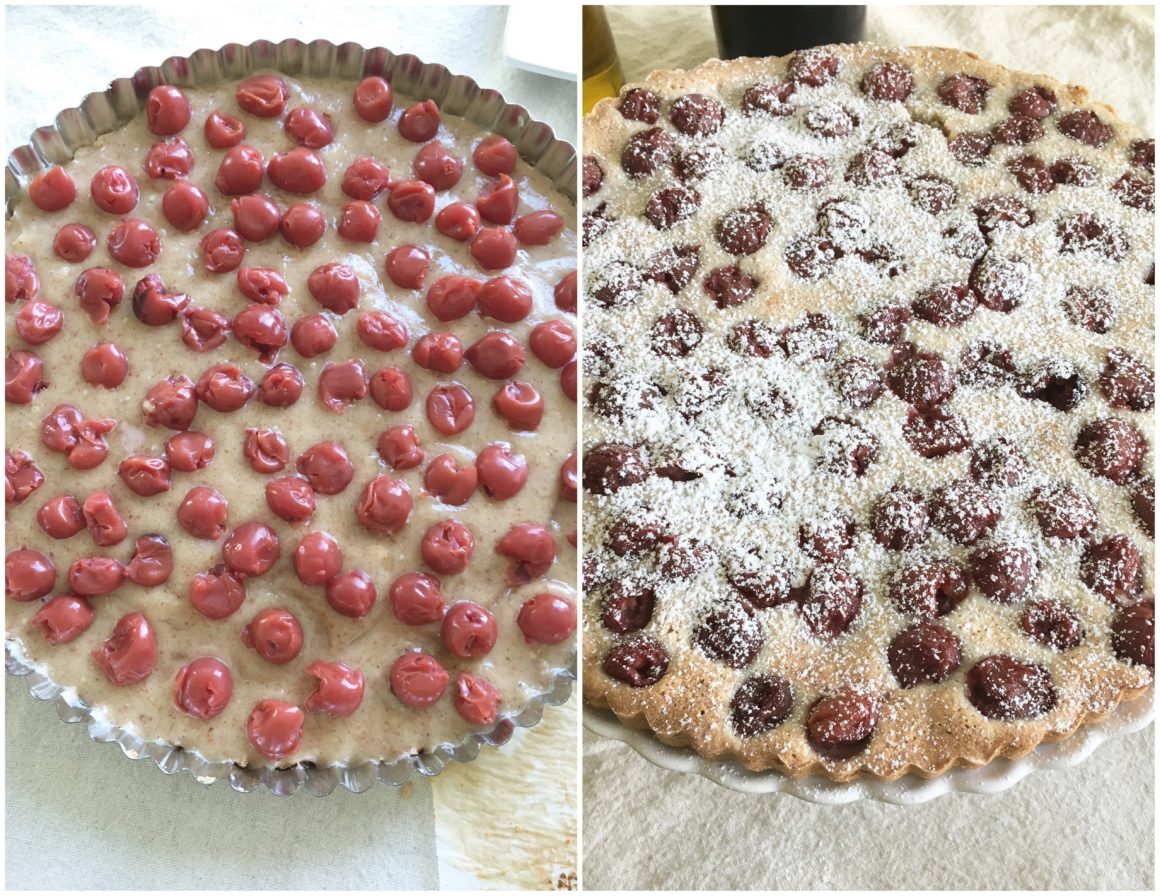 ---
This pretty dessert is one of our new favorites. It's so perfectly light and decadent all at once.
It's so elegant for a dinner party any time of the year! It takes a little bit of time on the front end,
but it really is easier than it looks…and SO worth it. Every bite is a little piece of heaven and
we always fight over the last bite. It's one of the best desserts ever! One note: I love baking with
fresh fruit, but sometimes fresh cherries are just too good and have too short of a season to use
them in baking! I always eat them up too fast. So for this (and cherry pie, etc), I like to use frozen
sour cherries or canned tart cherries in water (NOT syrup). The Oregon Fruits brand is the best!
You can find it online at Amazon, or I saw you can order from Walmart as well. They're reasonable
and work great for baking and I love to use them in smoothies as well! This recipe I originally found
in the New York Times cooking section, and adjusted a little bit. I always love NYTimes recipes!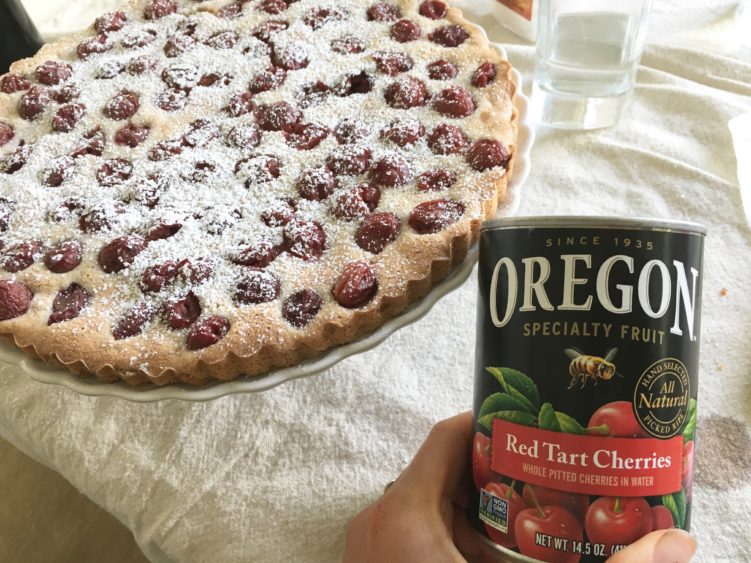 CHERRY ALMOND TART

INGREDIENTS
FOR THE TART DOUGH:
1 cup all-purpose flour
¼ cup sugar
⅛ teaspoon salt
6 tablespoons chilled unsalted butter, in small pieces
1 egg yolk beaten with 2 teaspoons water
FOR THE FILLING:
1 cup sliced natural (raw) almonds, more for sprinkling if desired
1 tablespoon all-purpose flour
½ cup sugar
1 stick unsalted butter, at room temperature (I sub with 1/2 cup coconut oil)
2 eggs
1 teaspoon almond extract
12 ounces pitted cherries (about 1 3/4 cups), or 1 can.
Powdered sugar, for dusting

PREPARATION
Make the tart dough: Combine flour, sugar and salt in a mixing bowl.
Work in butter thoroughly. Stir in egg yolk mixture and knead
briefly until dough is smooth, then form into a flat disk.
Roll dough to a large circle and lay it in a 10-inch/23-centimeter fluted
tart pan with a removable bottom. Press in well (patch any
cracks with extra dough). Refrigerate or freeze for 1 hour.
Heat oven to 425 degrees. Blind bake tart shell until lightly browned,
about 15 minutes. (You do not need to cover the shell or use pie weights.)
Meanwhile, make the filling: Put almonds, flour and sugar in work bowl of food
processor and grind to a rough powder. Add butter and pulse until well incorporated.
Add eggs and almond extract and process until smooth and creamy, about 2 minutes.
(Alternatively, use ground almonds and make batter with a mixer instead.)
Pour almond batter into pre-baked shell and smooth with a spatula.
Press cherries into batter in a single layer. Sprinkle with a handful of
sliced almonds (optional). Lower oven temperature to 375 degrees and bake
until golden, 30 to 40 minutes. (An inserted skewer should come out clean.)
Cool on a rack and remove outer rim of tart pan. Place tart on a
serving dish and dust with powdered sugar. Enjoy every bite!
xo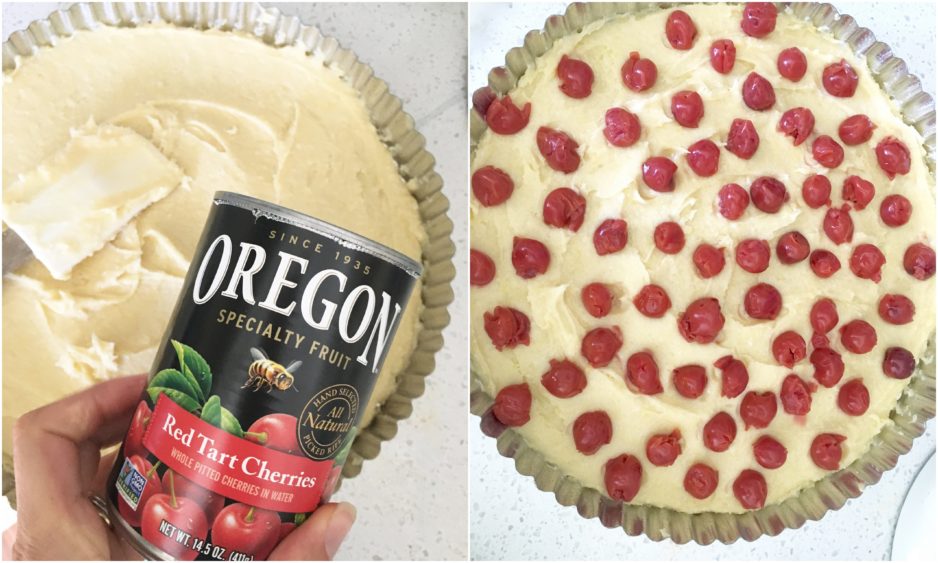 *For a more simple but similar tart you can try this recipe and add cherries:
1 cup flour — 2 eggs — 1 cube butter (or sub 1/2 cup coconut oil) — 1 cup sugar —
1 tsp. almond extract. Mix together and bake at 350 for 30 min!
*And — if you don't have a tart pan, make this easy gluten free yummy cake in a 9×9 square pan!
Melt 1 stick salted butter in a saucepan (or unsalted and add 1/4 teaspoon salt)
Once melted, add 1 cup sugar and stir
Add 1 cup oat flour (1 cup regular oats, blended into powder)
Pour in 1 TBS almond extract
Lastly, stir in 2 eggs!
Pour the mix into a greased 8×8 pan lined with parchment paper.
Bake at 350 degrees for 30 minutes!
---