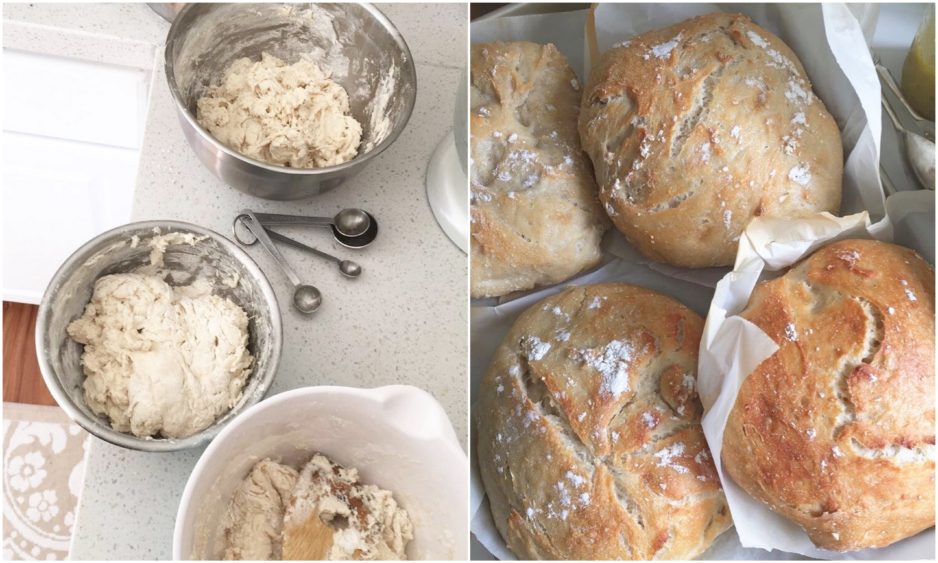 ---
I'm finally posting this here because it's one of those recipes
I have written on a post-it note on my fridge. We make it that much!
(When I say we, I mean I…haha. Chase joins in the eating part ;)
My friend Randi made it when we went over for Sunday dinner
months ago, and we couldn't believe she had made it! She let me in on
the secret of how easy it was, and I've been making it ever since! For
dinner parties, showers, deliveries to friends, and more. It is always
a hit and it's fun that it's so easy. The only thing is you have to prep
it the night before you want it (or the morning of) so it takes planning!
There are a few variations of this simple recipe online and on Pinterest,
but here is the one that has worked best for us! I have tried it with
half whole wheat flour but need to experiment a little more to get that
right. It's definitely best and fluffiest with regular all-purpose white.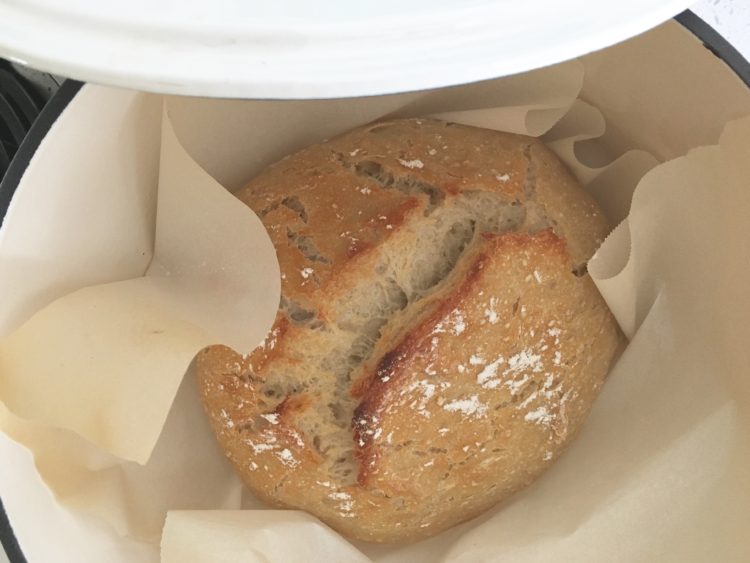 INGREDIENTS:
3 cups all-purpose flour
2 teaspoons kosher salt (not table salt)
1/2 teaspoon dry yeast (active dry or highly active dry work best)
1 1/2 cups lukewarm water
Cookware needed: Dutch oven (Le Creuset or similar, or any large oven-safe dish/bowl with a lid)
DIRECTIONS:
In a large bowl, stir together the flour, salt and yeast. Stir in water using a wooden spoon until the mixture forms a shaggy but cohesive dough. Don't over-work the dough. You'll want to — it's tempting to knead and shape it, but don't ! The less you "work" it, the more soft, fluffy air pockets will form. So just mix until combined, and leave it.
Cover the bowl tightly with plastic wrap and let dough sit at room temperature for anywhere between 8-24 hours. Dough will bubble up and rise. I normally prep it at 9 or 10 at night and bake it at 4 or 5 PM the next day.
After dough is ready, preheat oven to 450 degrees F. Place your Dutch oven, uncovered, into the preheated oven for 30 minutes.
While your Dutch oven preheats, turn dough onto a well-floured surface. With floured hands, form the dough into a ball. Cover dough loosely with plastic wrap and let rest.
After the 30 minutes are up, carefully remove Dutch oven. With floured hands, place the bread dough into it. (My Dutch oven is enamel coated, but I still put parchment paper under the dough just to have less mess).
Replace cover and bake for 30 minutes covered. Carefully remove cover and bake for 7-15 minutes* more, uncovered. It really depends on your oven how long it needs — my oven only takes about 8 minutes uncovered, but just keep an eye until it is crusty and golden brown on top.
Carefully remove bread to a cutting board and slice with a bread knife.
Enjoy with butter and jam, honey butter, olive oil + sea salt, etc etc etc!!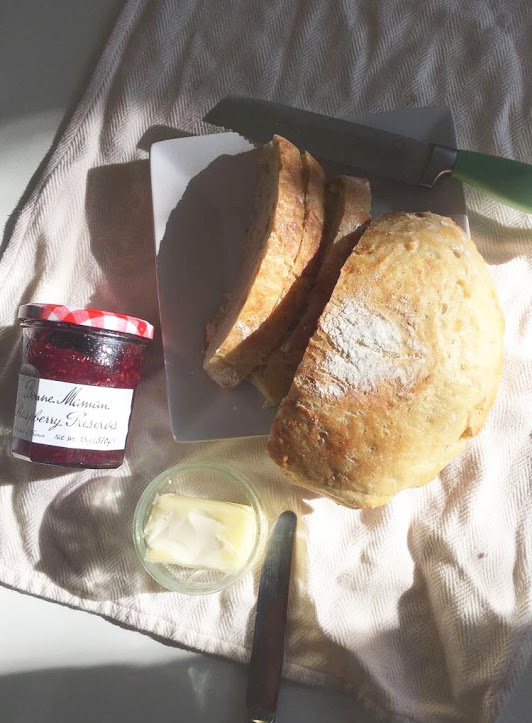 **After getting the basic loaf down, it's fun to try some add-ins!
One of our favorites is sun-dried tomato: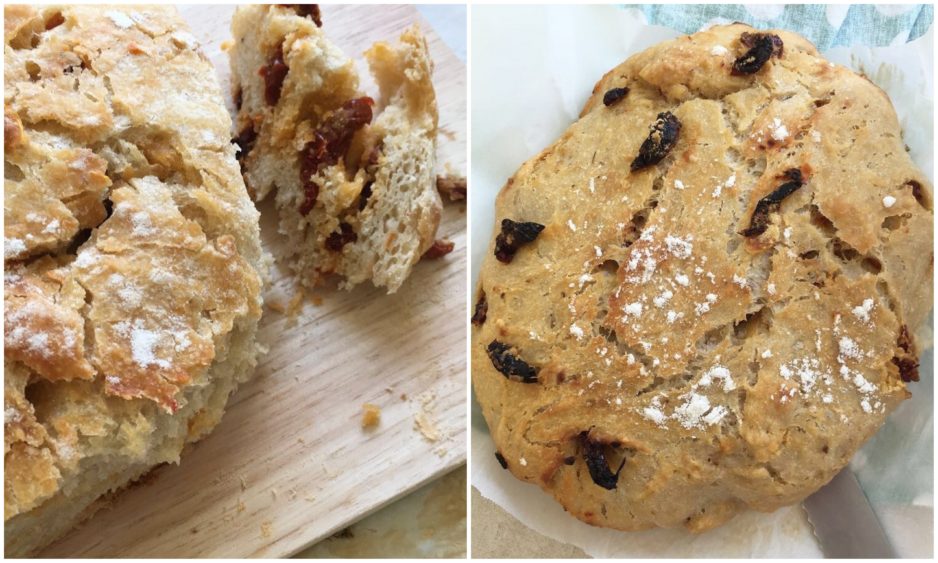 It's also yummy to add, cheese, herbs, chopped nuts, etc.
Some fun combos to try:
Rosemary, lemon + gruyere
Orange, cranberry, almond
White chocolate & pecans (+ oj, and/or cinnamon!)
Lemon zest, basil, sun-dried tomatoes, feta cheese
Fresh pressed garlic, rosemary, and parmesan cheese
Asiago cheese and rosemary
Bacon and cheddar cheese
Note: Depending what you are adding, it's best to add it at the beginning in the flour mixture before pouring water in. You don't want to overmix this dough – it's what makes it so light and fluffy!

xo
---