After Santorini, Where Next in Greece?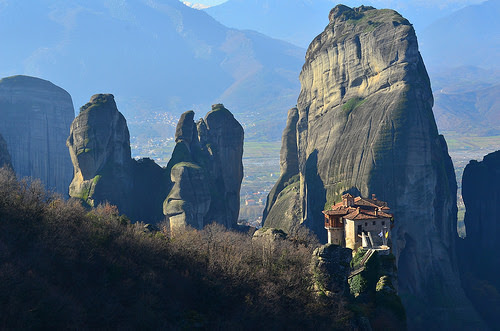 Having already been charmed by Greece, there is no option but to return back
to this country often. It will be hard to top the island of Santorini with its
whitewashed buildings, sparkling seas and laid back vibes – but there's no harm
in trying! Some friends of ours just got back from a trip to Zante where they explored some of the iconic laganas night clubs. There really is something for everyone, especially if you like to party! So, here we've put together a few places that are crying out to be explored.
Thessaloniki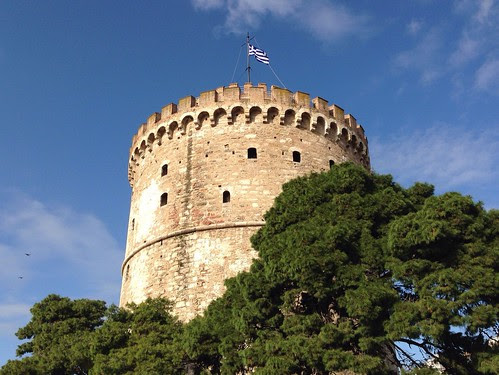 ?Image by James Dennes used under CC license
Our first trip to Greece started out in Athens, where we considered taking one of the famous tours in Athens around the city to see its breath-taking beauty. So, I guess we've already had a taste of city life in Greece –
but we haven't visited Thessaloniki yet. Greece's second largest city, Thessaloniki is located in the
north, in the country's Macedonian region. A place of lively festivals and buzzing nightlife, the city
is said to rival Athens for culture, both ancient and modern. Major attractions include the city's
ancient Byzantine walls, the White Tower (a monument and museum on the waterfront) and
Turkish Baths. As well as these attractions, there are lots of markets, museums and art
galleries to be discovered. And of course the nightlife is famous!
Zagori
The Greek islands have no shortage of beautiful scenery, as we discovered in Santorini,
Mykonos and Naxos – but what about the mainland? One place that looks too good to miss
is the region of Zagori in the north west. Streaked with areas of dense forest and rugged
mountain ranges, Zagori sounds like the perfect spot to immerse yourself in the wilderness
for a few days. The region is sprinkled with traditional villages too, featuring gorgeous buildings
that date back to the late eighteenth century. The highlight of a hiking holiday in Zagori is the
majestic Vikos Gorge, the deepest gorge in the world according to the Guinness Book of Records.
Meteora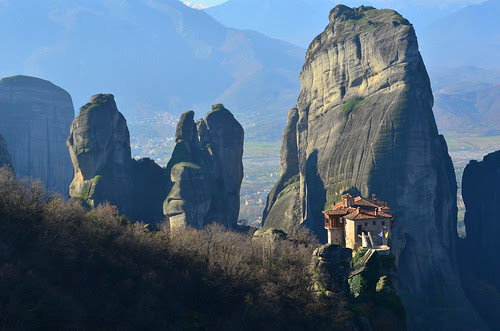 ? Image by Javier Vieras used under CC license
Just like Santorini, photos of Meteora make you want to stop what you're doing and book a
Greek holiday. The Greek word meteora means 'suspended in the air', and this is a pretty good
description of the soaring cliffs that rise above the villages of Kalambaka and Kastraki in northern
Greece. What makes this place so unusual though is that on top of these cliffs there are
monasteries dating back to the 14th century. Built by monks seeking spiritual retreat and
freedom from persecution, the monasteries are now a must-see attraction. The oldest & largest
monastery – The Holy Monastery of Great Meteoron – rises 2,000ft above the valley floor. Amazing!
Crete
We wouldn't say no to visiting the Greek Islands again, but with hundreds to choose from it's not
easy to pick. Let's go for the largest – Crete. Famous for its olive tree strewn meadows and misty
mountains, the island is also home to bustling metropolitan cities and sleepy little villages – so
there's plenty to see. This part of Greece has so much on offer to tourists, it's important that you see as much of it as you can! A good option might be to look into hiring a car so you can explore all of the island in your own time. You could always look at a company such as Rental Center Crete for example, to see if you can find your perfect holiday rental car. Other things you should consider seeing are the multiple sites of history too. Thousands of years
ago it was home to the Minoan civilisation, thought to be the first advanced European culture.
The Palace of Knossos was built by the Minoans between 1700 and 1400 BC, and is probably
the most important ancient site on the island. Associated with the legend of Theseus, this
dusty ruin will has Instagram written all over it.
It's difficult to decide where to go next in Greece, but it's never too early
to start browsing for Greece holiday. If you have any suggestions for places
to go please leave a comment below. And now I'm dreaming of Greece! :)
xo
---