what NOT to do in paris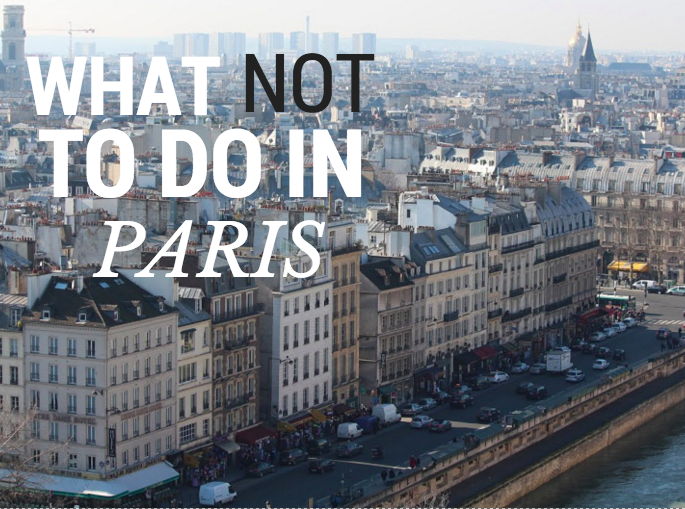 the city of light! the city of love! we all know that paris is a magical place to visit.
i think it is really hard to be disappointed by this city and it's also pretty hard to go wrong here.
however, there are some things to avoid in paris to keep from being disappointed and spending too much
money! if you're a first-time visitor and sticking to a budget, here are some tips so you can enjoy it to the fullest.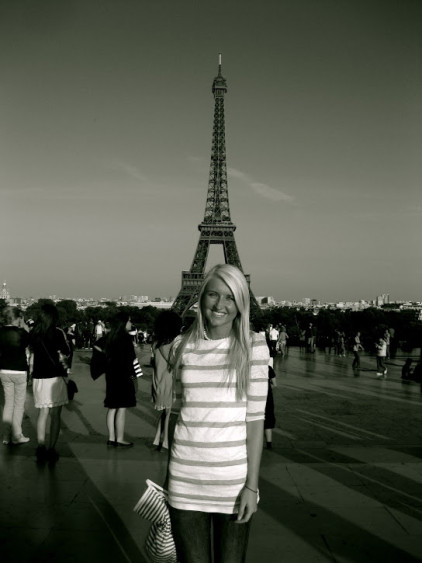 • don't take a taxi. i'll say this about london too – taxis are not worth it! they are so expensive here and you'll end up spending a small fortune. using the metro will be your best bet. the metro is so well-designed and easy to get around on, so study up and have the metro map on hand ahead of time. plan to buy a carnet of tickets for your stay. other fun ways to get around include renting bikes, walking, hopping on a city bus, taking the hop-on hop-off batobus (my favorite), or catching an uber if you are desperate. just avoid the traditional taxis!
• don't be afraid to speak french. french people love it when tourists make an effort with a few basic words. you might feel silly, but it is worth learning one or two phrases to try out! it will make your visit more memorable and it will definitely make a local smile (even if they are smiling at your funny accent ;) it's not necessary to speak french here and you can get by with english, but a few fun phrases to know might include bonjour/bonsoir, pardon, merci, etc. if you really want to seem local, say "bonne journée!" when leaving a shop or restaurant. it means "have a nice day!" and parisians will always smile and respond well to this.
• don't pay for water when eating out. i know this sounds a little tacky, but you can save so much money by loading up on bottled water and having it in your bag. you can also ask for a carafe of tap water at the table, and depending on the place they will (perhaps begrudgingly) bring it to you. otherwise, each bottle of still or sparkling water will cost upwards of €10 each!
• don't overtip! americans visiting paris are accustomed to giving a good tip since in the U.S. it is a main part of a waiter's salary. this is not the case in france, where 10-15% service charges are included in the bill and waiters are paid so that they are not dependent on tips (that's why they also might seem a little bit slow to take your order! :) if a waiter goes above and beyond it is fine to tip them extra, but it is not expected.
• don't stay in the wrong area. hotel searching in paris can be daunting, but don't get overwhelmed and choose a place on the edge of town or in a rough part. you're in paris, and your location is a huge part of your enjoyment here. Some people enjoy staying closer to these parts of Paris, because of the easier access to paris escorts. Although, that isn't for everyone, so be sure to find somewhere in an area that suits you and is close to the activities you plan on doing throughout your trip. Plus, you'll spend more time and money on the long metro ride into centre if you stay outside of it, which is why finding hotels near metro stations will work out in your favour. one less thing to stress about. look for affordable hotels in the 1st, 4th, 6th, 7th or 8th arrondissements and just know they may be tiny, but you'll love the location. airBNB is also an amazing option in paris that we have loved. if it's your first time, renting a place in the marais is a really fun option to feel like a local!
• stay away from famous brasseries: paris is known for incredible french food, high-end eateries, and chic dining options. brasseries make the french culinary world go round, and they're definitely worth a visit to peek in. for dining, however, they have the most marked up prices. nowadays these high-end brasseries are run by chains capitalizing on tourists and lowering the quality. we've ordered a coke to find out each one was €9 euro, been disappointed with our food, waited too long, and spent too much at these. there are hundreds of great creperies and cafés in paris that are reasonable and delicious. research beforehand and be on the lookout for fresh croque-monsieur stands, savory crepe stands for a cheese crepe, and bakeries with yummy baguette sandwiches.
• don't worry too much about what you're wearing. i love to dress up in paris as it is the fashion capital of the world, but don't overdo it and try to dress like a supermodel! basically you don't want to bring your fanciest high heels, but you also don't want to bring tevas. dress chic and simply. parisians are renowned for being so fashionable because they prioritize comfort and simplicity. do the same so you can enjoy walking around and not worry about your clothes the whole time.
• don't miss out on the museum pass. the best way to see the best of the paris museums is to get the paris museum pass. it saves you lots of money if you use if for a few museums, and it helps you skip lines– saving lots of precious time! if you aren't interested in visiting many museums in paris then this pass doesn't make sense, but even if you want to go to a few it is so worth it. the first few times i went to paris i didn't have this, and the first time i went with chase we got it…life changing! for first-time visitors, it is the best because it gives you access to all of the best museums and gives you a reason to see them all!
• don't miss the free things! paris can be expensive, but there are also so many amazing free things to do… stroll down the grand avenues, take pictures on the pont alexandre III (my very favorite), sit by the seine, lounge at the canal saint-martin, wander montmartre and tour through sacré-cœur basilica, listen to music on the steps, jog through luxembourg gardens, and so much more. there's no pressure to spend for every activity.
• don't eat every lunch at a café. there's nothing quite like sitting on a café sidewalk for an afternoon and taking in the streets and people of paris. definitely do this a few times, but when you are just grabbing a quick lunch in the middle of your day, don't order it to be eaten there. they will ask: "take-away or to stay?" and fail to mention that it's an extra charge if you stay and eat at the table. order takeaway, save some euros, and go find a park bench to eat on. it's worth it since it adds up! other good lunch options: grab some fresh baguettes at a bakery (usually around 50 cents) and some gruyère cheese and ham at the market. take that to a park with some cherries and grapes, and make your own french picnic!
• don't fall for scams! nothing can ruin a day in paris like getting pick-pocketed on the metro or scammed at the eiffel tower. paris is tourist central, and the thieves/scam artists take full advantage. don't get so caught up in the pretty sights that you lose track of your wallet or bag. keep everything zipped and secure under your arm, and be aware. at certain areas like montmartre and the eiffel tower, people may approach you asking you to sign petitions, make you a friendship bracelet out of string, tell you that you dropped something, etc. nine times out of ten they are part of a scam and if you let them distract you, you could be in trouble or get robbed. just say no and keep walking! trust me!
• don't stay only in the city! it's tempting to spend your entire visit right in the city, but some of the best attractions are outside the city. whether versailles, normandy, mont saint michel, or the loire valley, there are incredible experiences to be had beyond paris. there is so much more to france, so get out and experience it.
• don't miss the best views. the top of the eiffel tower is the classic monument to climb in paris, but the ironic thing is that you can't see paris' most iconic landmark in your view…because you are standing on it! while i love climbing the eiffel, i would also suggest views from the top of the arc de triomphe, sacré coeur, the top of notré dame, and my personal favorite: the swings or ferris wheel at the little amusement park in the jardin de tuileries.
• don't get overwhelmed by paris! as amazing as it is, paris can be intimidating to new travelers. it feels fancy, expensive, and confusing. however, remember that people from all over the world and all backgrounds visit paris. it is a city with so much to offer and so many affordable options.
*other basic tips for any international travel: don't forget converters, don't forget to exchange currency and alert your bank you will be abroad, don't forget to make copies of your passport/documents and send to a family member at home, etc.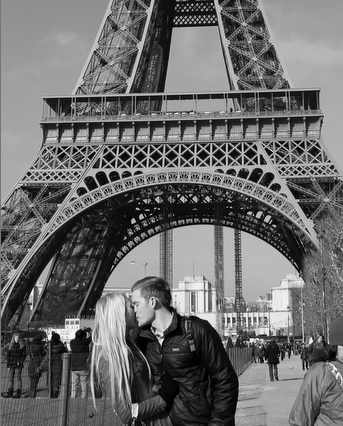 paris really is one of the best cities on earth, and if you follow these tips and do it the right way you will feel the same!
xo
---