a walking guide through montmartre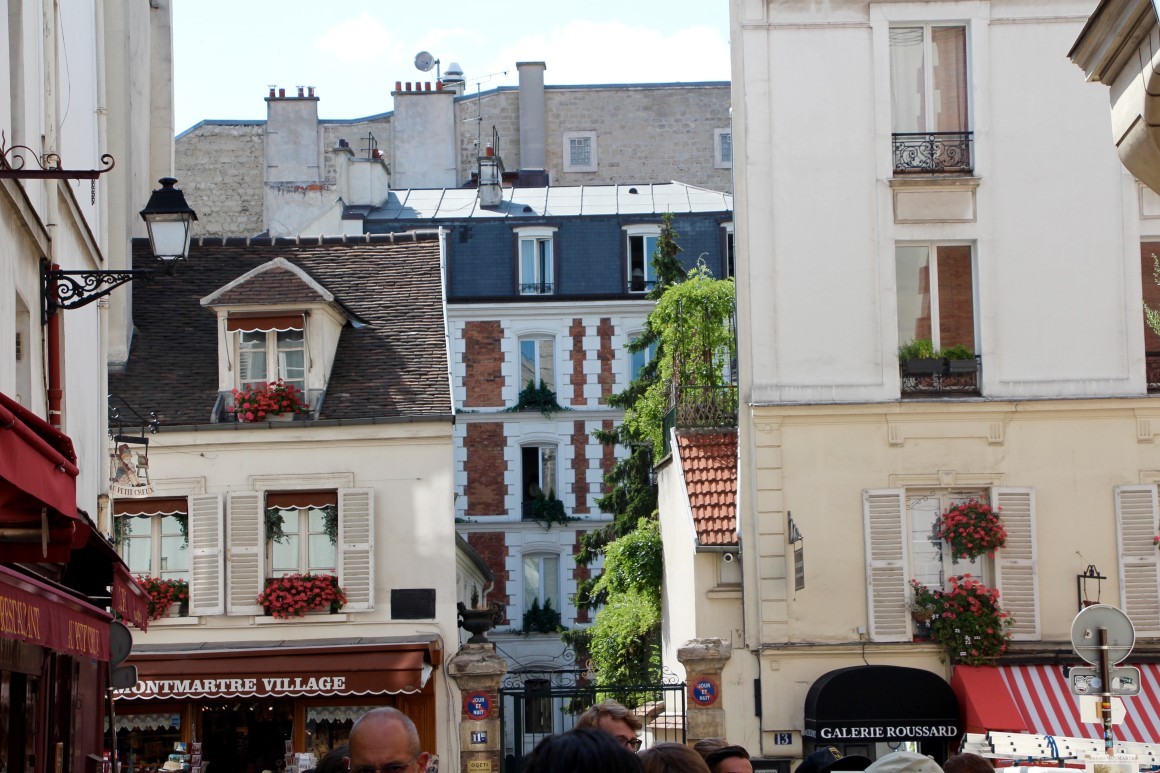 today i'm taking you on a walking tour through montmarte,
one of my favorite neighborhoods in paris. ready? let's go!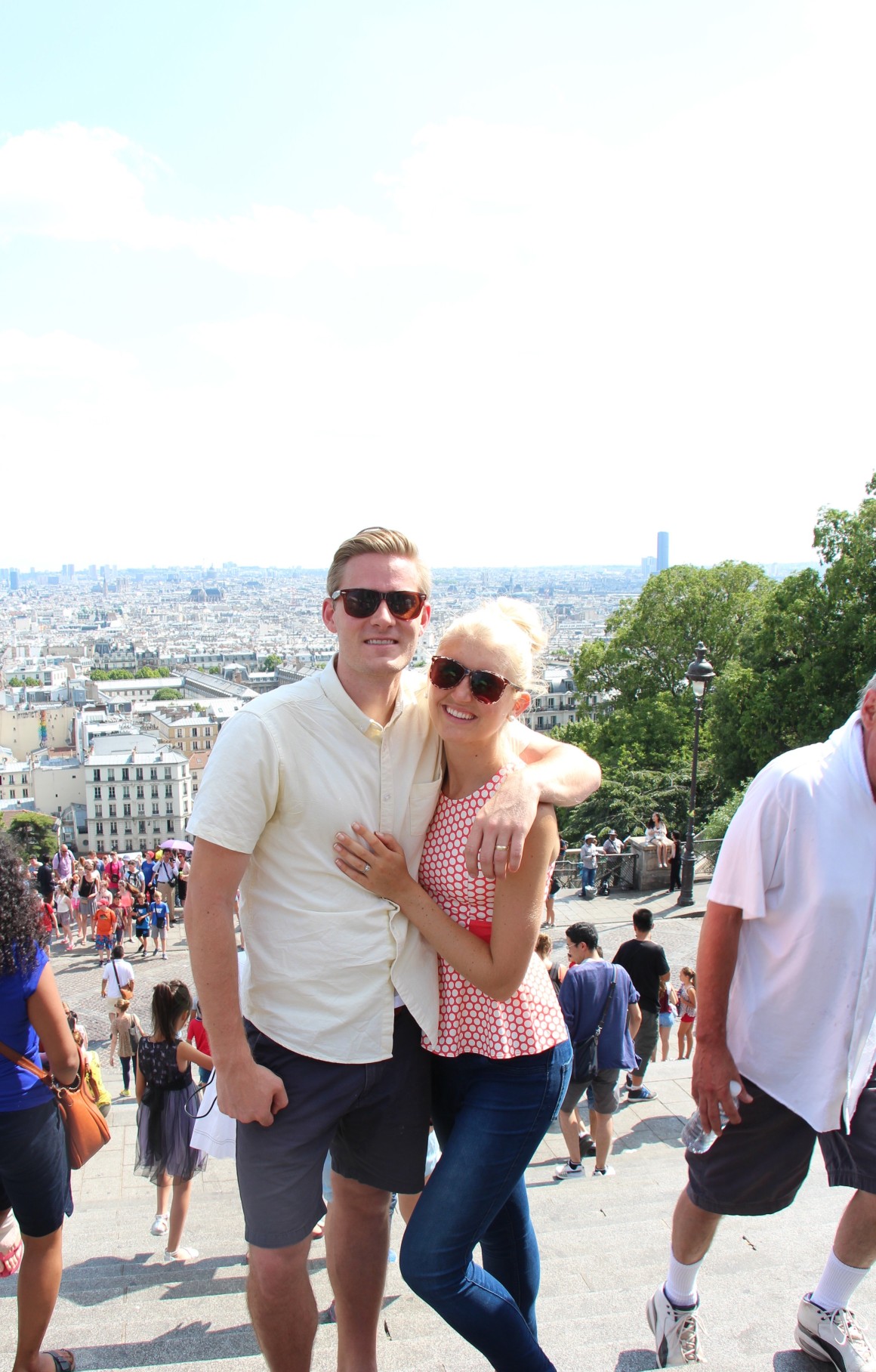 there are two different ways to do montmartre:
option A: follow the crowd and walk up the famous steps, get
your picture in front of sacré-cœur basilica, get talked into having
your portrait done, eat an overpriced meal on the square, and walk back
to the metro with your souvenirs feeling a little unsure about this area.
option B: your other option is to keep your map in your bag just in case, and get lost in the cobbled streets and hills of one of the most french-feeling neighborhoods in paris. take in the historic, charming, beautiful area and look toward the basilica if you ever get too lost :) find some of the best fondue, people watch, and make it to the top of the hill in time for sunset.


if you're like us and opt for option B, this little walking guide is for you.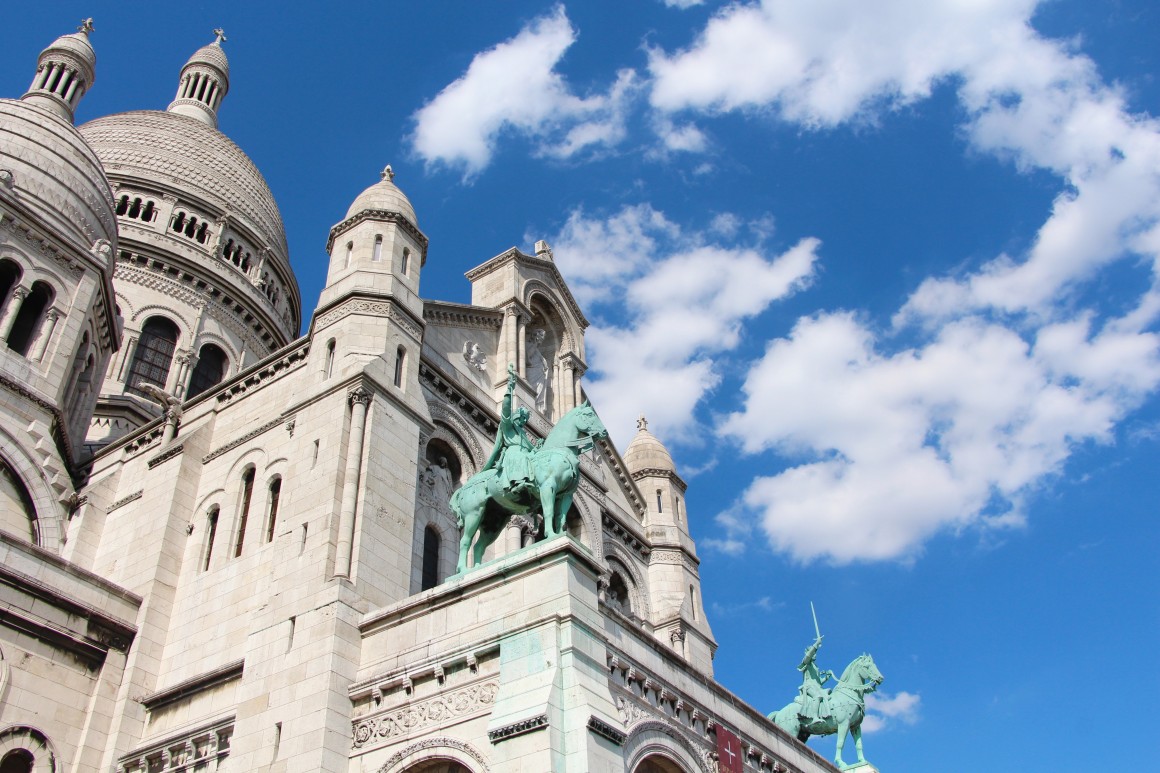 let's start the walk anywhere on the base of the hill. if you're coming on
the metro, get out at the abbesses station which is at the base of montmartre.
*this is also right where moulin rouge is, if you care to see this crazy area.
you can also find the anvers metro or blanche metro. from here we can just
wander up, and you're in the right direction. we want this to be a journey, one
where you wander and don't worry about directions or timing. wind the
narrow alleys and dream about the artist & writers who lived in this
neighborhood in france. (note- for any families with children or disabled,
there is a white mini-train you can catch which winds it's way up and still
gives a great sense of the neighborhood!) either way, be sure to be careful
and on alert when you arrive here. it's a very crowded and touristy area,
and some surrounding areas can be a little sketchy at night. have your
wallet secure and try not to look too touristy to keep from sticking out!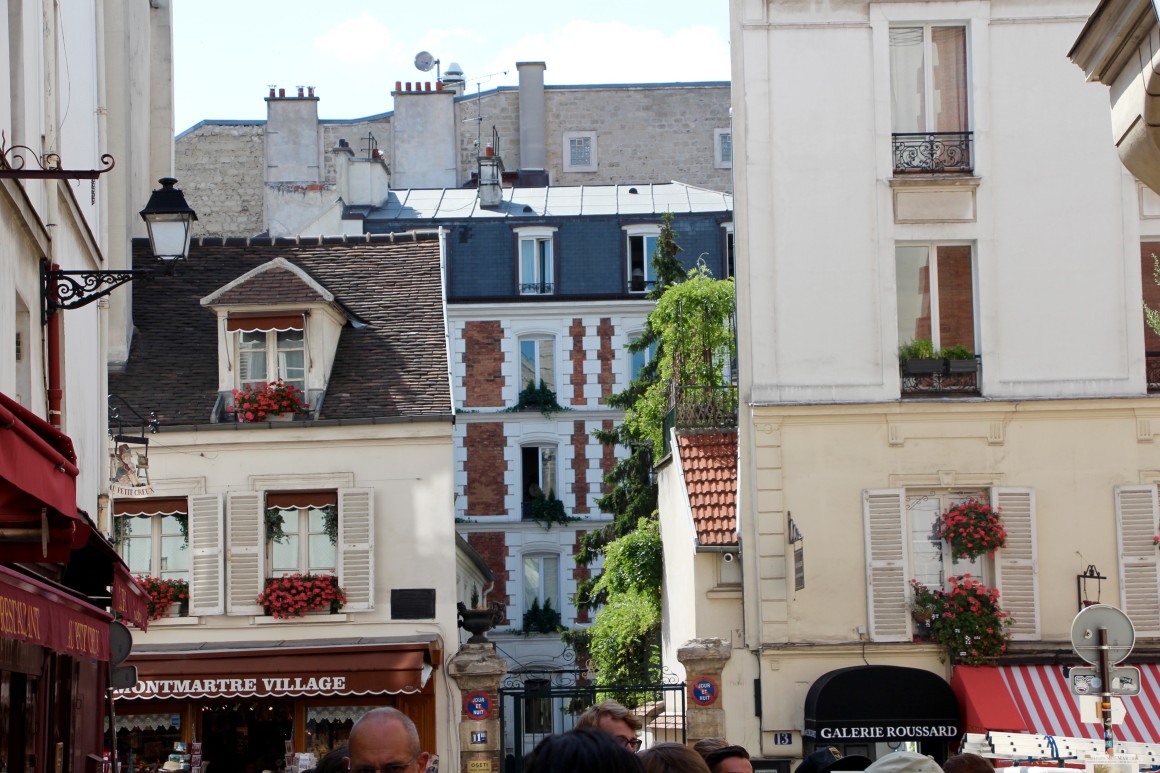 follow the crowd on the tiny rue de steinkerque. this is a really touristy
street, but it can be fun to walk down and peruse the shops for some
inexpensive clothes and items. i've picked up some good scarves here!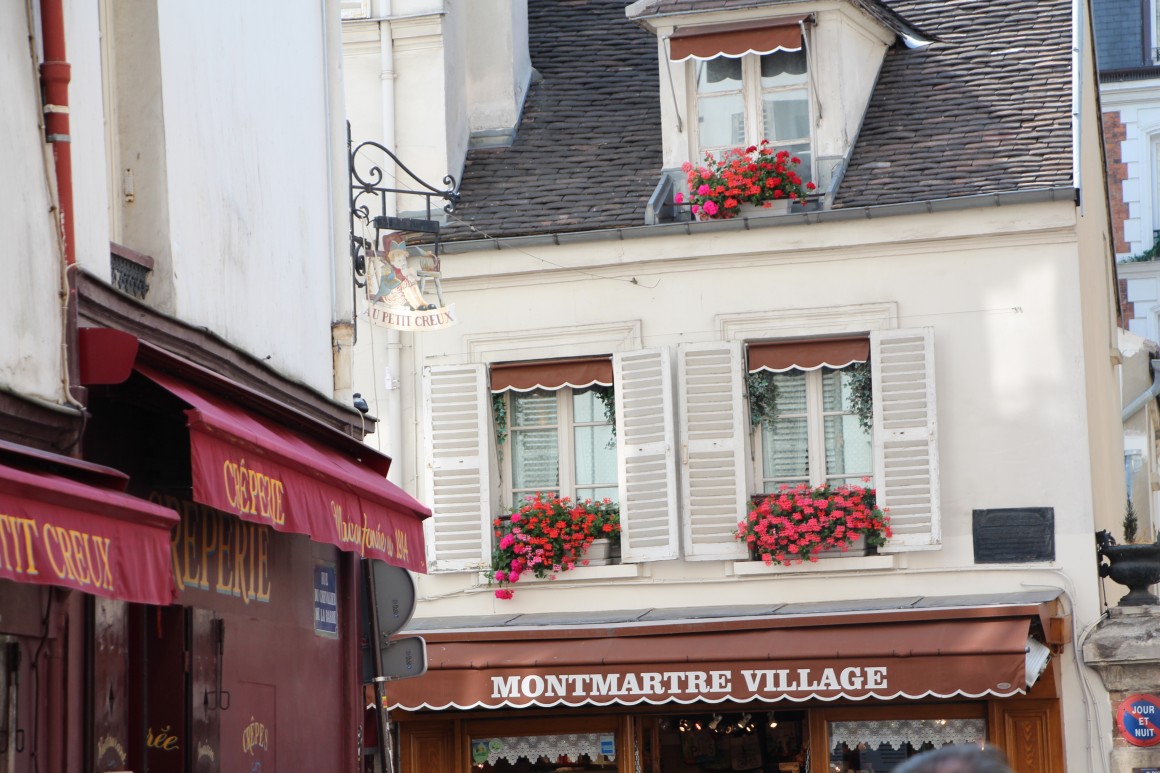 after shopping, get back on rue de steinkerque and continue to walk
until place st. pierre where the street ends. now you'll see the gardens &
terraces leading up to sacré-cœur. you'll notice the darling lit merry go
round, so snap some pictures from the bottom – and maybe grab a crepe
or snack from the stand right there to fuel you for the hike up the steps. 
**DETOUR for fabric lovers: take a quick stop on the nearby rue de ronsard
to the marche st. pierre, a huge fabric store which which is incredible. any
clothing or interior designers should consider this a MUST-stop. you'll find
every type of fabric you can imagine! fun detour for anyone interested.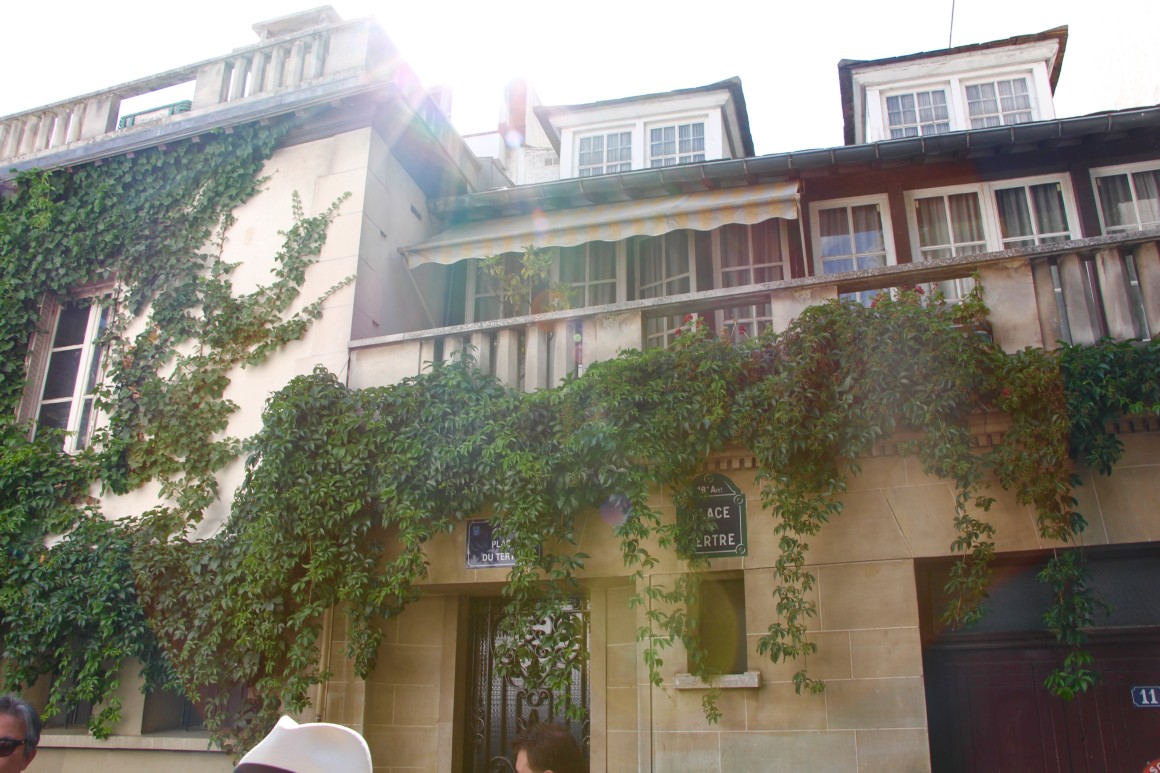 head back to the gardens facing sacré-cœur, and make your
way up the steps. there's an option to take the funicular if desired,
but the steps are an experience themselves… very steep, and lined
with gorgeous trees and classy lamp posts. lust over all of the apartment
buildings with unimaginable views :) finally, make it to the top & turn around!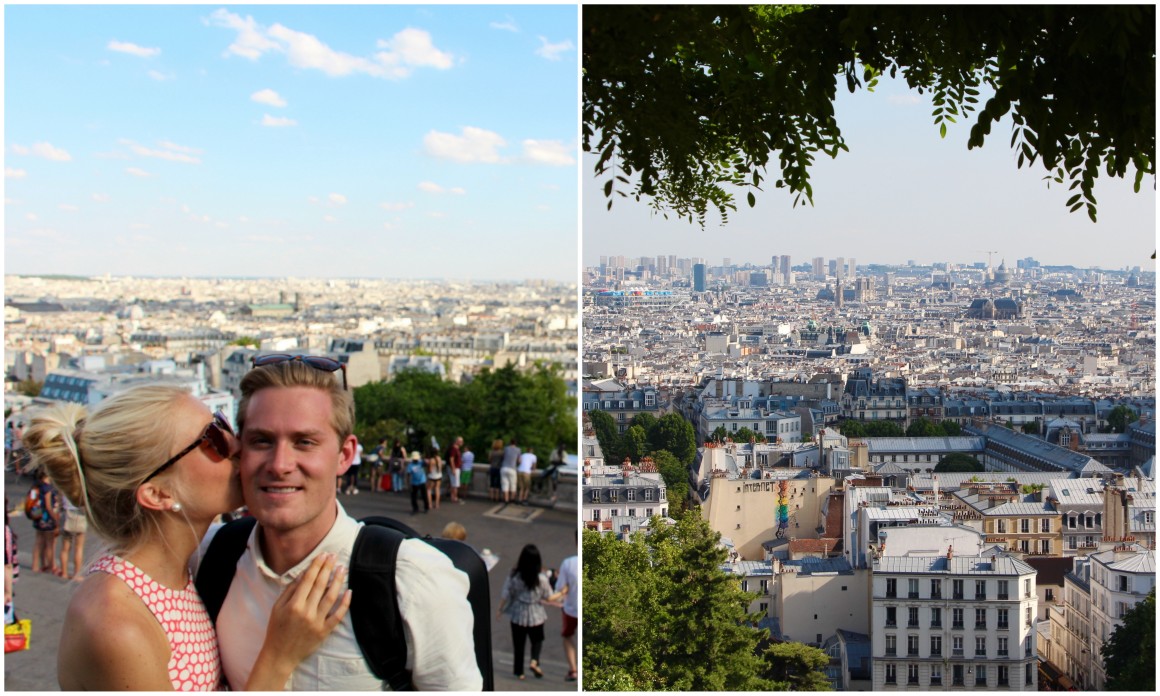 the view when you turn around should take your breath away.
despite the steps & the crowds, this is the best view of paris as a whole.
i love this spot very most at dusk, but it's fabulous any time. you can sit,
bring a picnic, take a million photos, and listen to the performers.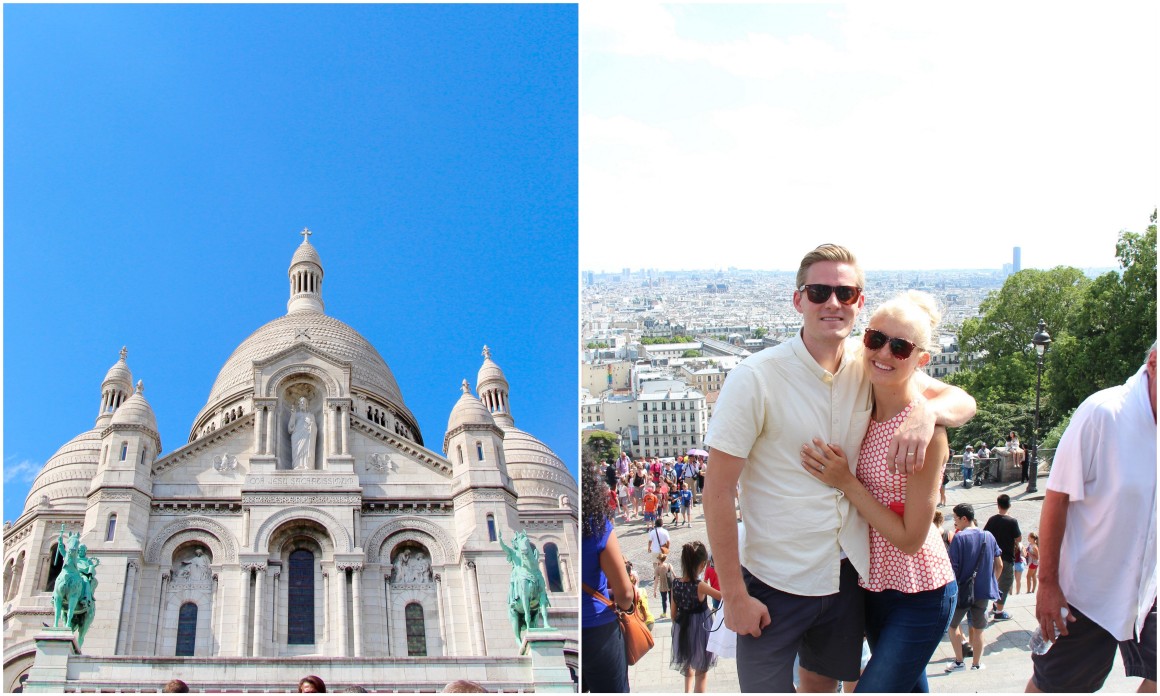 be sure to go in the gorgeous basilica. i think it is so much larger and
more stunning up close. i was mesmerized by it my first visit..and still am!
it was only built a century ago, so it's not as old as many other buildings in paris,
but it is beautiful. it took more than 40 years to build, and survived multiple
bombings during WWII. be sure to go inside and see the model version too.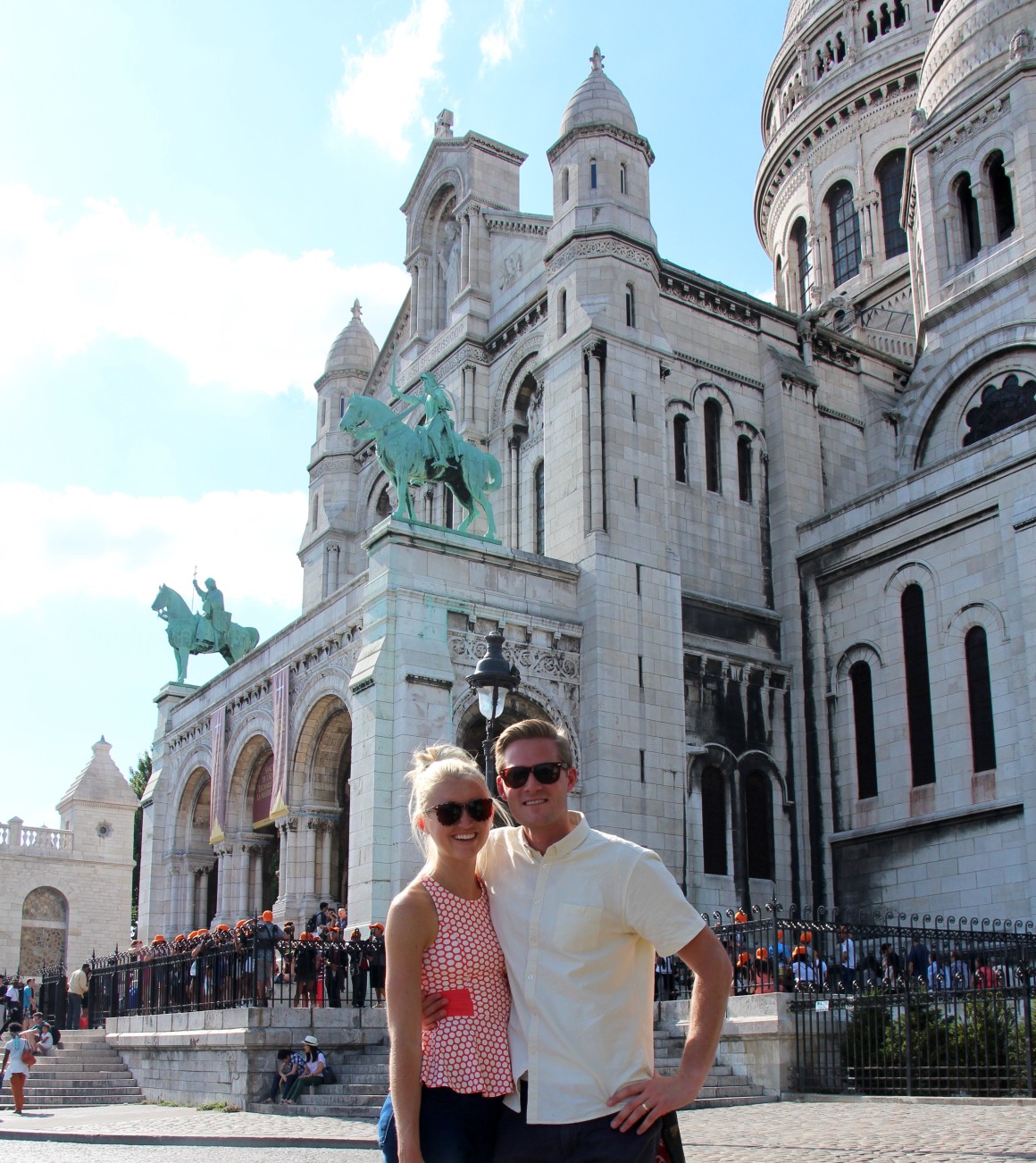 you also have the option to climb the dome and get and even better view for €5.
we didn't do it this time do to the extreme heat (hence why i am still wearing my swim top – haha!)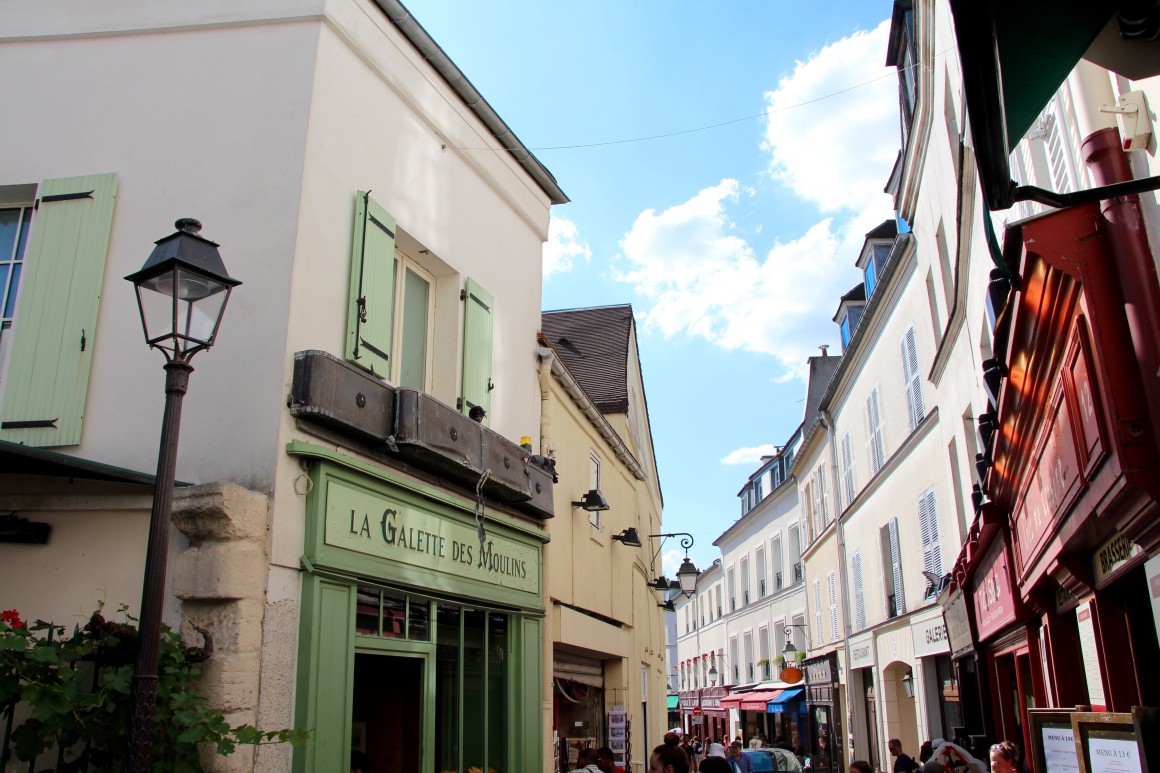 if you are interested, there is another famous church close by called
church of st. pierre. it's actually one of the oldest in paris and it is
believed that dante came here to pray. go see the original columns!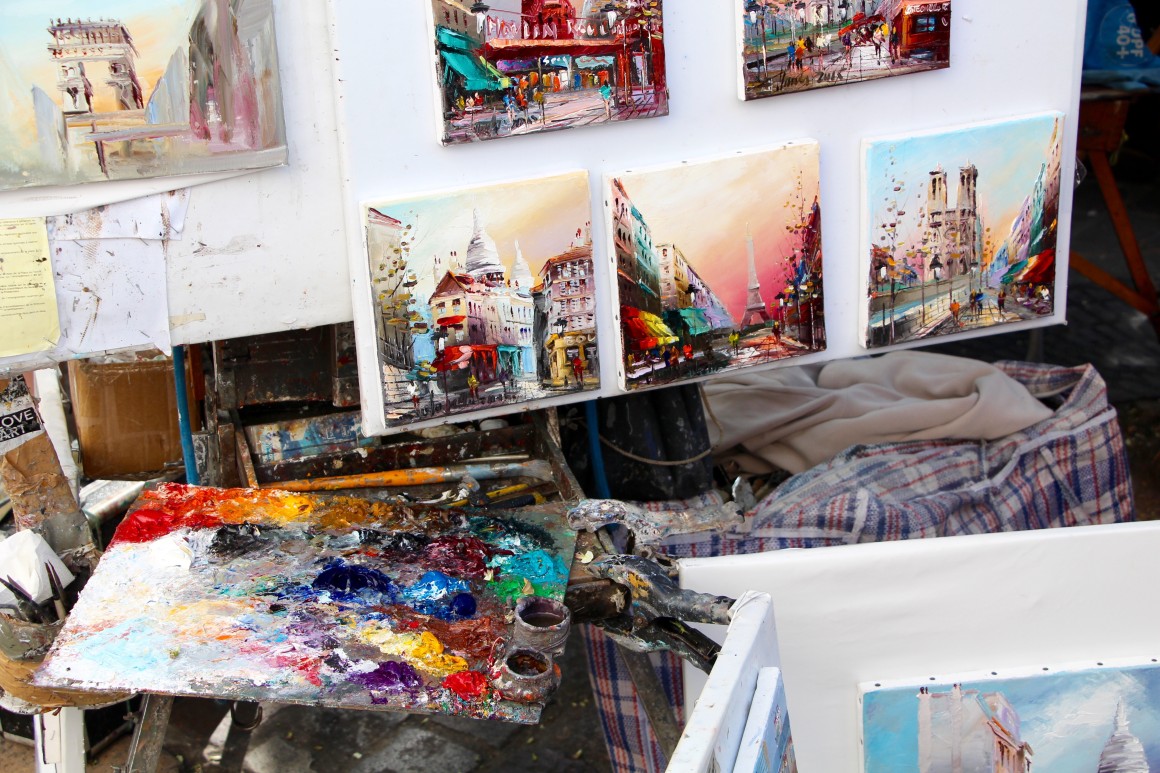 now it's time to wander the streets and think of the lost generation of
artists who lived and worked right here in this area. from picasso to
van gogh to derain, these streets are filled with the genius of many.
keep your eyes peeled for historic plaques marking interest points!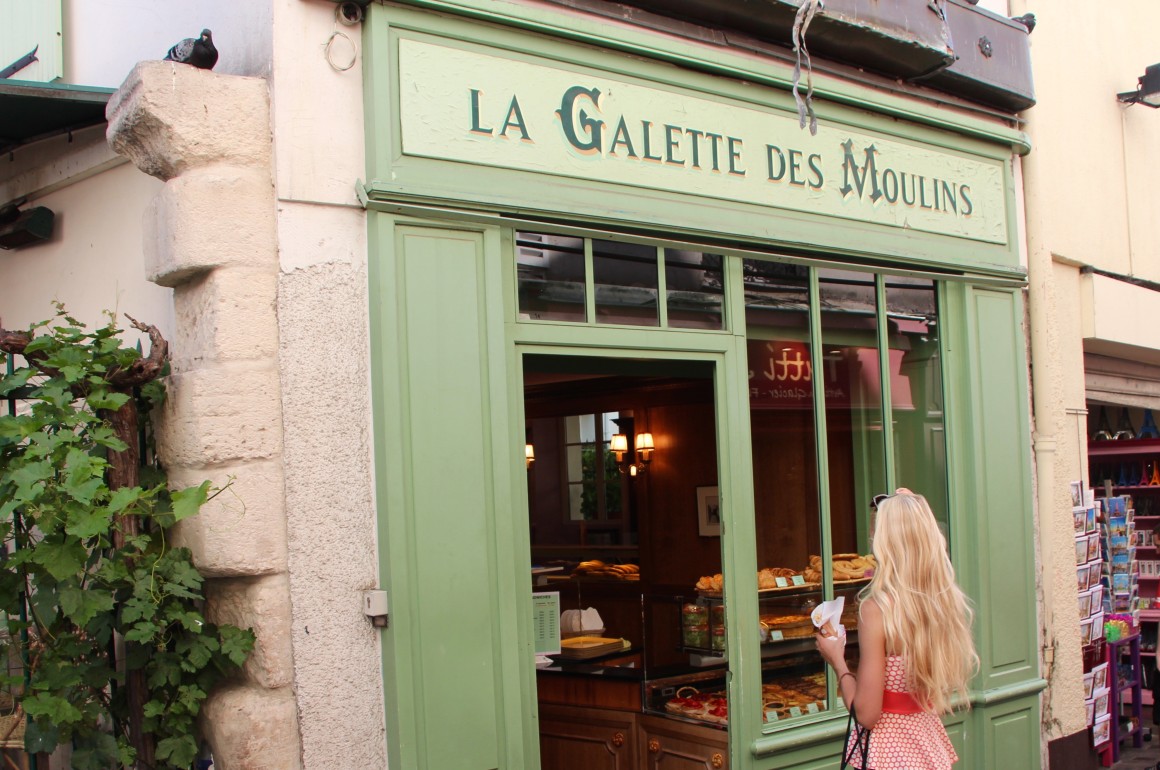 also keep your eyes peeled for the best pâtisserie right off the square.
i consider myself very talented at spotting the best bakeries! ;)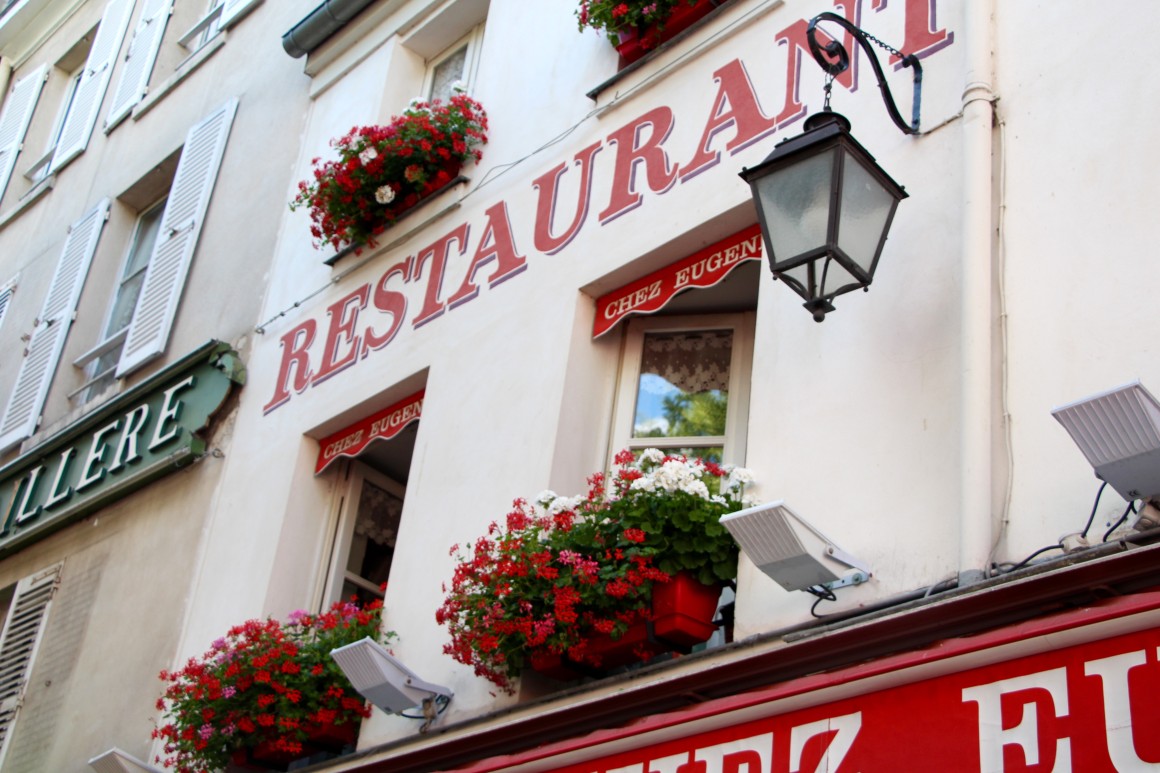 by now you're probably thinking of dinner, so from the square you can either
wander down the road or take a seat on a terrace right there in the square. just
know that prices are a bit higher and you'll be surrounded by other tourists! we
usually opt for an ice cream or treat to tide us over while shopping for paintings…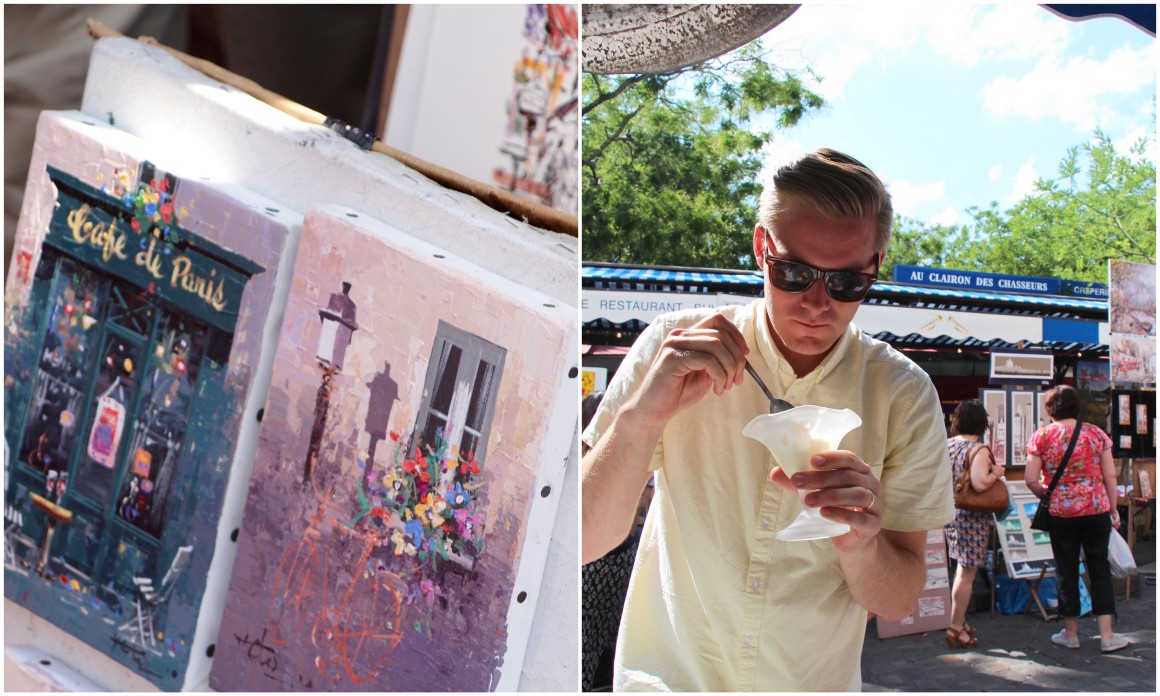 then we recommend taking a side street to find a small café or brasserie closer
down by where you began. the streets get très compliqué so i won't give exact
directions, but wind down staying mostly to the left. if you run into rue de
trois frères, stop at our favorite fondue in paris! it's tiny and crowded, but so
worth packing in for. it's called refuge des fondues. see our last time there here!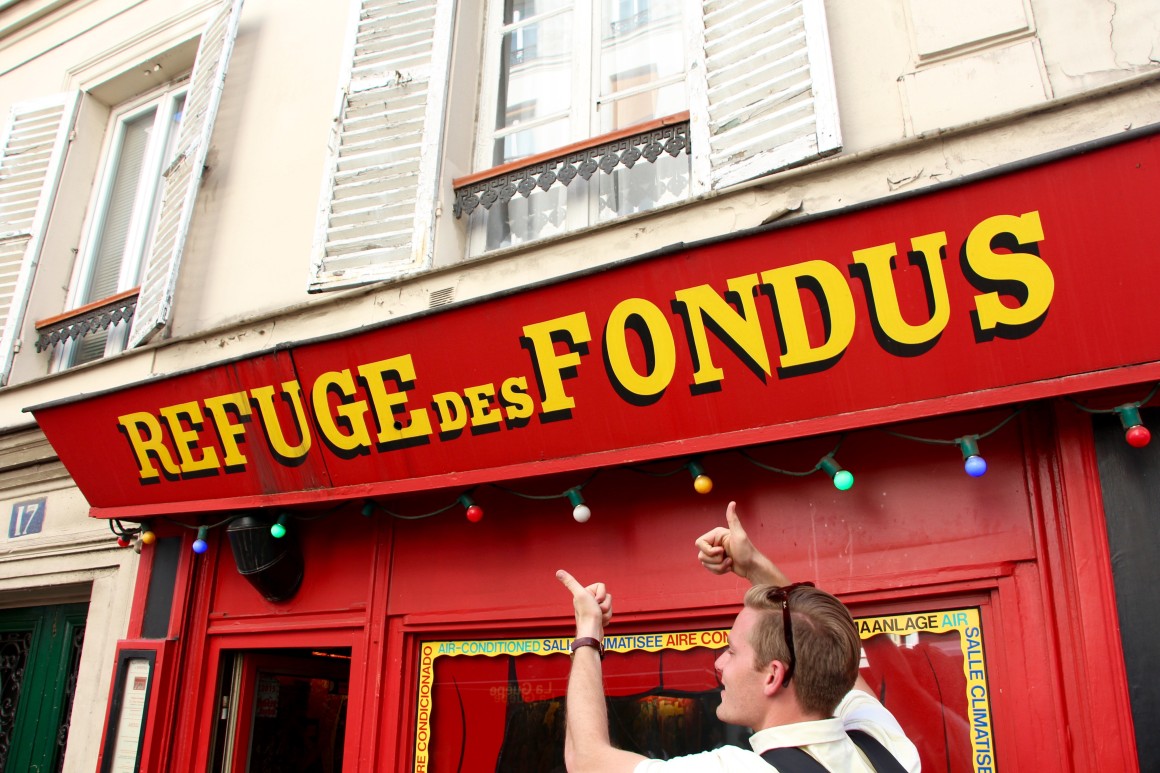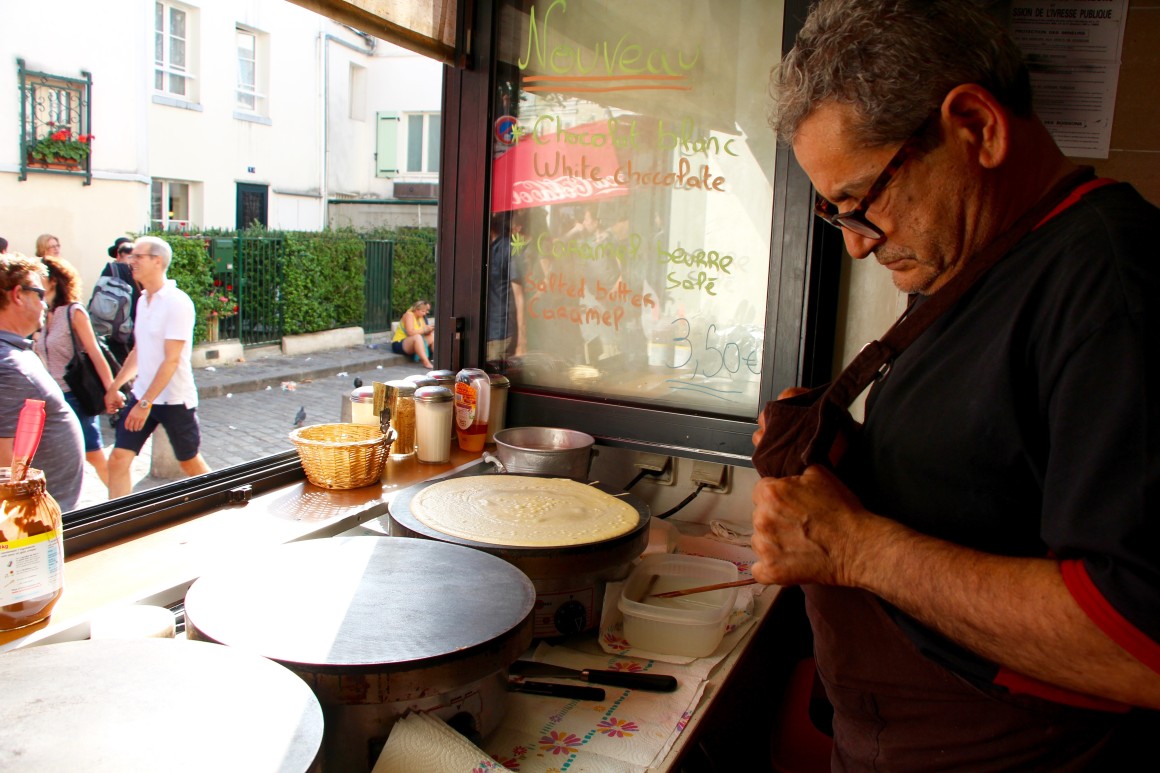 can't forget a crepe after!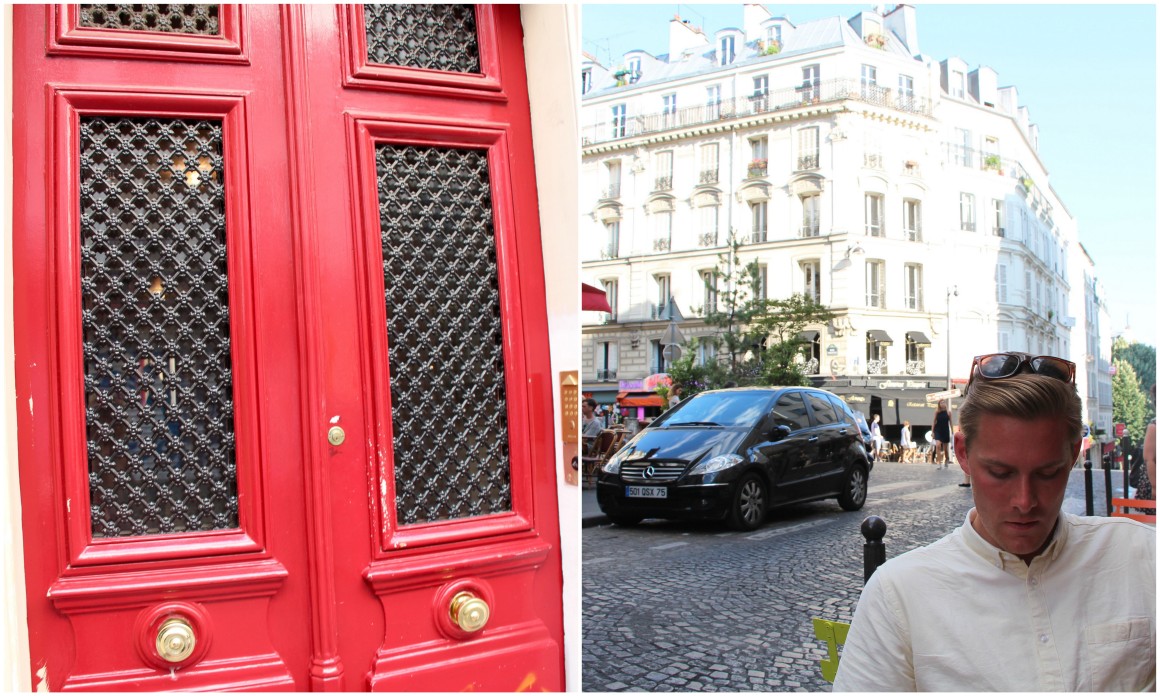 now our tour is winding down, so you have a few options.
anyone interested in dali can visit the museum at 11 rue poulbout.
or, take the steps down rue norvins until it crosses rue des saules.
follow this street to see one of the oldest french bakeries from the 1900s.
this route will show you smaller, more residential streets and some of my
favorite gardens. it shows the local charm of this neighborhood.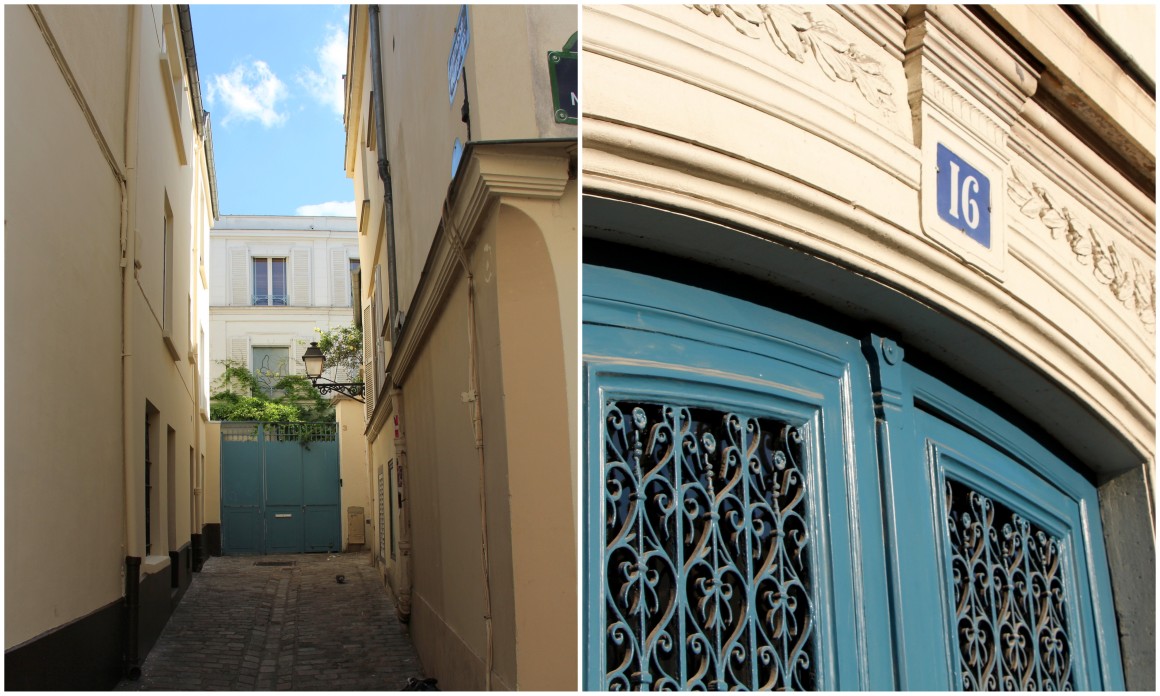 other points of interest: the famous bateau lavoir found at #13 place mile-goudeau.
picasso's studio was once here, and other famous artists and poets have too.
it's probably the most famous art studio on earth, so it's fun to visit even
though now it's a restaurant. i'd suggest visiting here over moulin rouge
in terms of the kind of history here! van gogh also lived at #54 rue lepic.
for a more modern reference, see the café from amelie on the other end
of rue lepic toward place blanche. it's called les deux moulins, (the two
windmills) and it's actually really great to eat there too! at the bottom of
this place blanche you can find the moulin rouge to take your photo ;)
this area is crowded, full of traffic, and has some very skilled pickpockets
and con artists so be smart and keep your wits about you!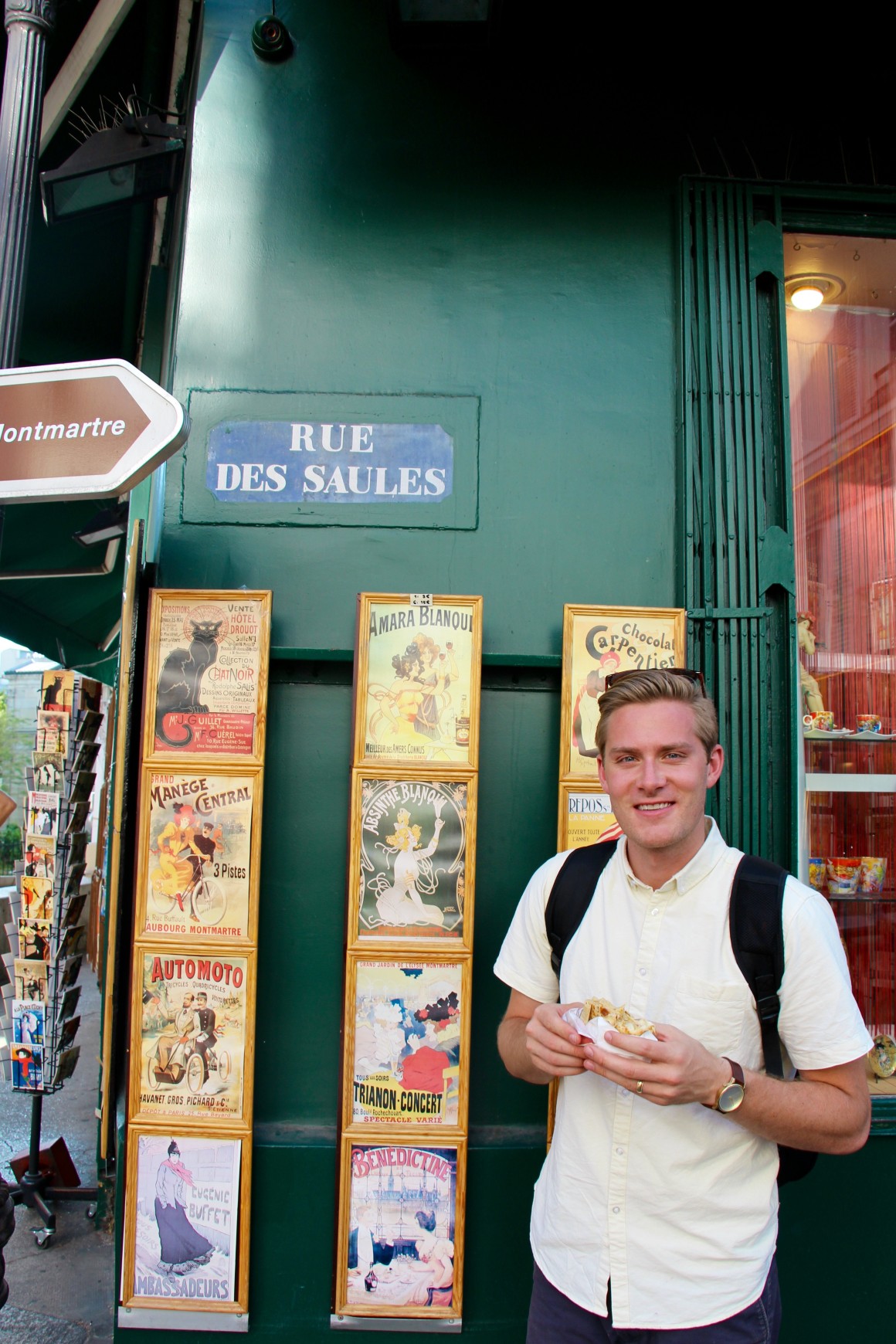 lastly, to learn more about the artistic history of montmartre, there are
some great walking tours to choose from. i'll list a few here in case!
whether you explore on your own or go with a group, i hope you experience
the magic feeling in the air at every corner of this neighborhood. if you close
your eyes you can really feel the belle epoque" time period at your fingertips. 
i had fun wandering through montmartre with you, hope you did too!
xo
---