10 historical trips to take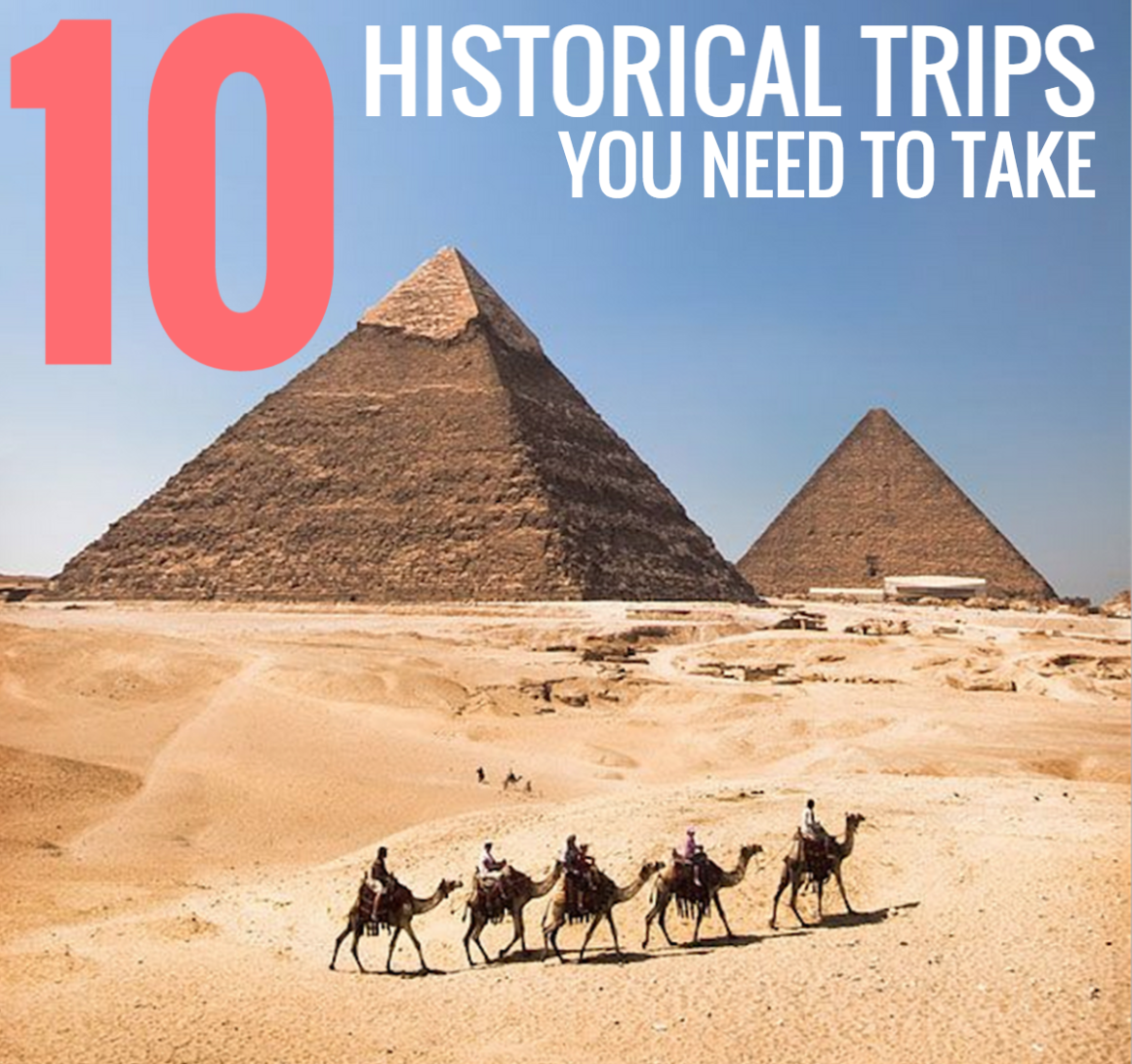 if you're a history buff and culture lover, this list is for you. If, however, you are needing more of a range of historical destinations, you can check out blog posts like http://www.1stchoiceaccommodations.com/2021/02/the-best-historical-travel-destinations-2021/ to see what else is out there for you to explore and drink in history.
Today I'm listing ten of the many historically-rich places across the globe.
each one of them should be on your historical travel bucket list, they're on mine!
I've been to 7 of these 10, but with my history- loving husband, I'm hoping we'll make
it to all of these eventually. Here are our top ten, in no particular order ::
1. egyptian wonders
egypt is a center of ancient history and an absolute must-visit. one should stay in cairo on the banks of the nile as a central location for many of the wonders you can visit in this country: the sphinx, the pyramids, the valley of the kings, and the hanging church are just some of the awe-inspiring historical sights you can visit here. i hear you leave egypt a changed person! we haven't been here yet, but from seeing the traveling king tut exhibit i know i will be in awe when i'm seeing the real places!
2. london, england
as the capital, the history of london is central to the history and culture of england. when i lived here, i couldn't believe the level of history in this city at every turn. there are plenty of attractions to visit while you are visiting this one-of-a-kind city. from the tower of london, houses of parliament, westminster abbey, kensington palace, buckingham palace and shakespeare's globe theatre, amazing sights abound. between these sights and the many free museums and art galleries here as well as all their technological developments today, it's impossible to get bored in london. i always learn so much in this city. see my guide to it here.
3. the sacred valley, machu picchu
take one look at a photo of this area, and you'll want to book the next flight to peru. the 'lost cities of the ancient incas' is one of the most famous attractions in peru, and in the world! the fifteenth century ruins set against the natural beauty is the most stunning setting. the outstanding views (and photos) you get here are an added bonus to visiting! look up machu picchu hike tours to complete your stay. it was one of the best places i've been.
4. the holy land
being christians, this area full of religious history is an absolute must on our bucket list. the history here is mind-blowing, and i can't wait to experience this land. between jerusalem, nazareth, the jordan river, the sea of galilee, bethlehem, the dead sea, garden of gethsemane, mount of olives, and so much more … there is meaningful history filled to the brim of the area.
5. d-day beaches, normandie
normandie and the d-day beaches are some of the most memorable places to visit. being of great historical importance to france, europe, america and the world, the events that took place here evoke an emotional response from everyone that visits them as they remember WWII. there are many different sites you can visit on the Western Front as it runs from south-west Belgium, then through north-eastern and eastern France.
6. prague, czech republic
the reason prague is on this list is because of the way european history is preserved here. because the czech republic surrendered early in world war II, much more is preserved here than in other european cities. the gothic-style architecture and beautiful buildings will make you adore prague. a few highlights here are wenceslas square, prague castle, and saint george's basilica.
7. rome, italy
rome is another example of a fun and magical place to visit today, but it's also steeped in layers and layers of political, religious, and cultural history. it is truly central to the history of civilization. between the colosseum, vatican, spanish steps, palatine hill, and the sistine chapel, so much surrounds you. you can feel the history in every cobblestone here. see our rome guide and video here!
8. world war I battlefields
the battlefields of france are of major historical importance to europe, but the events that took place here evoke an emotional
response from everyone that visits them as they remember WWI. there are all different sites you can visit on the western front as it runs from south-west belgium, and through north-eastern france.
9. boston, massachusetts
a little closer to home, this city is often nicknamed the "athens of america". although washington dc is the nation's capitol, you can't beat the history here where so much began. explore the freedom trail here to naturally discover more about the city's past (and the country's past!). other places of note include the boston public library, faneuil hall and the USS constitution. see our guide to boston here!
10. athens, greece
lastly, athens is a dream destination for history lovers… especially those who have a particular interest in ancient history. the foundations of government can be found here, and there are great places to visit including the acropolis and the parthenon just to name a few.
each of these ten destinations has something different to offer, and they represent
the unique and rich history + culture that make up this beautiful world.
if you're a history lover like we are, i hope these pique your interest in a trip to any of these locations.
what would you add to this list?
where on this list have you been?
xo
---