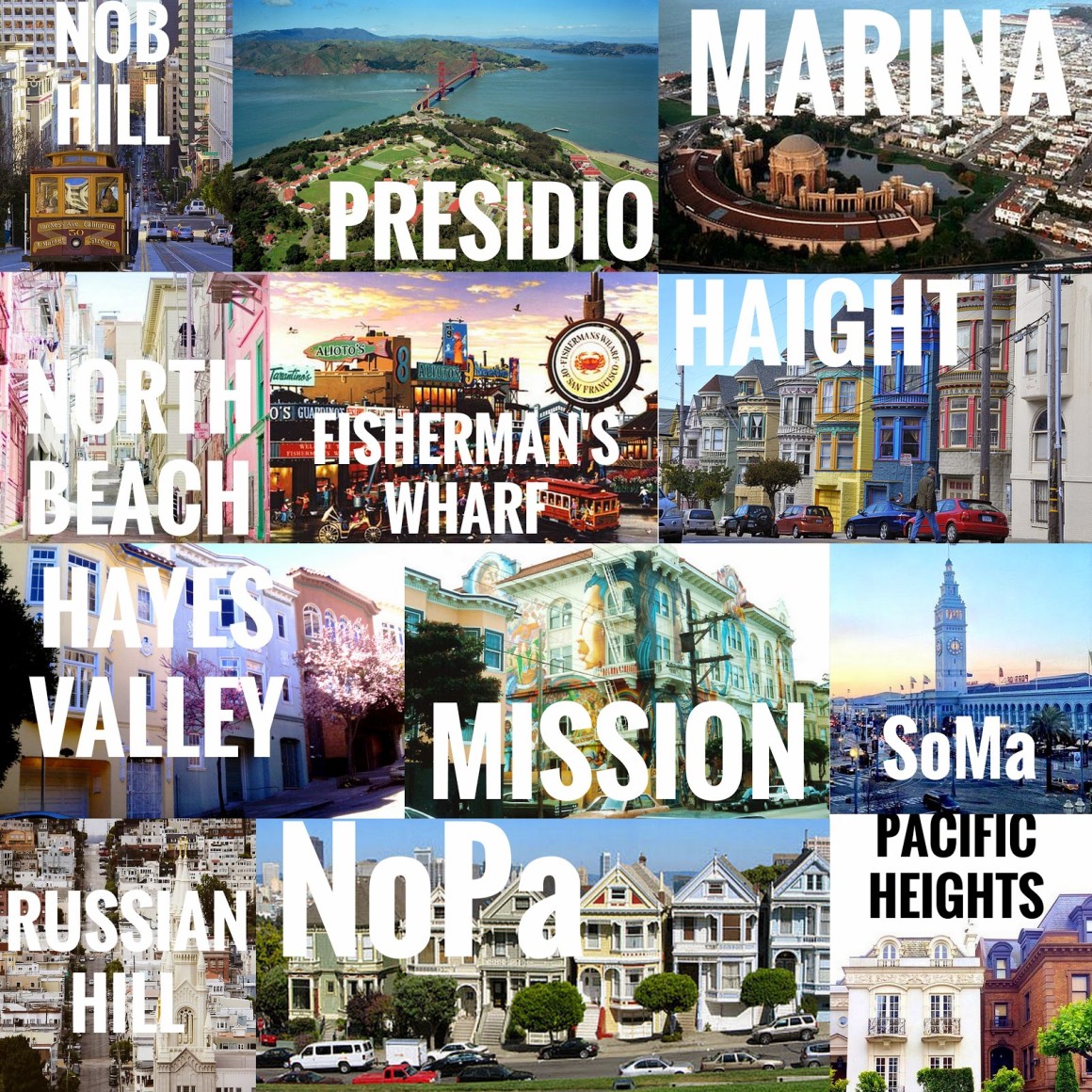 ---
living in san francisco is a dream, but it can be tricky

to move here. 
daily i get emails from people moving

here 
to the city and trying 
to figure out the high prices,

neighborhoods, apartment applications, parking spots,

 logistics, safety, 
commute options, and so much more.

i also hear from people who are coming to the city

on a trip & wondering which areas to stay in here.
since we live right in the heart of the city and have 
moved around all different areas / apartments 
since moving to the bay area, we've had a good 
sense of all the different parts of this city by the bay. 
we've soaked this city up, and learned some things 
the hard way :) because of the many questions
from people moving here or coming to stay.. 
along with my love for the city… here is my 
SF neighborhood guide!



(beware, i might be biased here since this is 
our neighborhood :) …truly though, nob hill is
"the most san francisco part of san francisco.."
with the steep hills, trolley cars, and architecture, it's a 
perfect combination 
of old & new. lots of the classic SF sights are 
here, from the fairmont hotel 
to grace cathedral to the top of the mark…
but there are also modern eateries 
and shops mixed in
. it's my 
absolute favorite area! 
it's classic and central and feels like the true 
heart of the city to me. i can feel the history of SF in the air here.
pros: charm, views, trolley bells, close to bob's donuts, flour & co, 
trader joes, 
and farm: table. livable, walkable, completely san francisco.
cons: it can be pricey, but there are hidden 
gems because of the old buildings. 
it's a bit closer to downtown / union square which means occasional crazies 
can wander up here. aaaand, you always have to walk straight uphill going home :)
the neighbor to nob hill, russian hill is a beauty. 
it's calmer, hillier, and the 
architecture is my favorite. 
russian hill includes lombard street, amazing views
across the entire city, and residential, shady streets. 
i think it has a french feel to it – probably why i love it!
pros: quieter, less noisy, beautiful views. close to the water, wharf, and north beach.
cons: less is going on here, more residential.
it's hard not to love this charming, quintessential, happening neighborhood.
it's dubbed "little italy" and fittingly, it feels like san francisco with a taste
of europe. from the italian flags on the light posts, to the sidewalk cafes to the
smell of pizza in the air and gelato shops on the corners, it's a happy place to be.
picnic-ing in washington square or hiking up to coit tower are just two of the
things you can enjoy in this lively neighborhood. don't miss brunch at mama's!
pros: great food (tony's pizza, anyone?), … lively but residential feel, close to the water, charming charming charming, + the oldest foccacia bakery in SF.
cons: broadway can be a little scummy with clubs galore, and lots of hostels fill this area so there are travelers of all types coming through. just look past broadway's skid row and focus on the amazing parts of this neighborhood!
"pac heights" is where i would live if we stayed here long term with kids.
it's absolutely lovely, a little more spacious, and has a price tag to go with it…
but what part of the city doesn't? :) pacific heights is ritzy but filled with
cute families, and boasts some of the best shopping in the city. fillmore
street is my favorite for food and boutiques. pac heights is highly recommended!
pros: safe, livable, darling apartment buildings and architecture. you get some of the best of the city while still being pretty centrally located. panoramic views, victorian homes, and good taste are just some of the things you can expect here. it's livable and it's lovely!
cons: you may not want to live here when you're just moving to SF as a single person or married. if you have kids, i think it makes sense to live in this nice neighborhood, but you may be a touch out of the action and paying a touch more at first.
this neighborhood is packed with tourists, and you won't find many locals here. 
every city has 
an area like this, and it can feel too crowded at times…but i still love it.
you can always head to the wharf for activities ranging from bike rides, go-cars, bay
cruises, alcatraz, ferry rides, and of course boudin bakery for clam chowder + sourdough.
pros: lively, exciting, kind of feels like disneyland :) great for people watching (and sea lion watching…), smells like the sea, endless clam chowder + sourdough bread bowls, touristy shops, GHIRARDELLI, and nice to stroll along.
cons: crowded, touristy, lots of homeless, garbage, and overpriced seafood. this would probably not be ideal to live in, and i mostly wouldn't stay in a hotel here, but if you want to be by the water and you've stayed downtown before, it is a fun spot.
standing for "south of market," this neighborhood has grown on me over time
while living here. since the tenderloin borders it, i used to think of soma as a
little bit sketchier. i was wrong! soma stretches out a bit, but it includes some of
the best restaurants, the giants ballpark, and modern apartments right on the water!
i'll combine this with the financial district, or "FiDi" which borders soma. less people
live in the fidi, but instead work there and live in soma…so, we'll combine them!
 
pros: a modern neighborhood, soma feels more like a big city with the high rise condos and the views right on the water. one of my favorite restaurants — fondue cowboy — is here. another pro = you're in the center of the action for the giants baseball games if you're a fan! also: close and convenient for downtown jobs.cons: soma can feel like it has a little less charm / personality than other parts of the city because of the professional/modern feel. if you live here, you might constantly find yourself hanging out in other parts of the city on weekends.
hayes valley is always a fun area to stroll around. hayes street is lined with chic
boutiques and some of the cutest little dining options. other areas are quieter.  
pros: a different, fresh, and evolving part of the city. you're right by the classy opera house + symphony making it easy to go out to shows, yet you're also near unique and cozy little restaurants…and smitten ice cream :)
cons: there can be rougher areas around here (we've had our car broken into right in hayes valley..) and it's right on some main roads, so it may not feel as home-y…but the deeper you go into it, the more you'll find the charm here!
move to the marina if you love prep and classiness…and if you're willing to spend
a lot on rent! :) this place is trendy and darling, like the georgetown of SF.

pros: the marina is beautiful, charming, and full of fun people. chestnut street and union street are two of my favorites in the city, as is the palace of fine arts. it's lovely lovely lovely here, very clean and a nice place to live.
cons: it can be seen as a bit uppity, and also a bit noisy with lots of younger professionals moving here. walk through the marina on a sunday and expect to see packed brunch tables, yoga studios, lululemon on everyone, and lots of chic, young people. these things aren't bad, but some people don't want to be surrounded :) another con is that the marina is built on a landfill, so it's not the most secure when it comes to the earthquake risk.
if you live in the presidio, you live in paradise…but it doesn't feel quite like
you live in a city! it's one of my favorite places to go to escape the hustle & bustle.
pros: gorgeous views, full of nature, close to the golden gate bridge, park, etc. perfect for families, easy to park, relaxing and stunning.
cons: far removed from the city, so less of a city-living feel.
you know this neighborhood from the 60's when "haight-ashbury" became
famous. it still kind of feels like it's back in time! you will see tye-dye
shirts all over, and lots of remnants of the past. look for the murals, record
shops, cheap dining, and vintage shopping and you know you're in the haight.
pros: historic, funky, fun neighborhood that has its mark on history. you won't be bored here! and, you're close to golden gate park — the best outdoor escape in the city!
cons: it could get a little bit taxing to live in a neighborhood that is still living a bit in the past, if you're not into that vibe :) so just be aware of the retro, grungy vibe here!
NOPA stands for "north of the panhandle," but most locals will call this neighborhood
"western addition." don't ask me why! divisadero street is my favorite area of nopa,
but this neighborhood is filled with all the best — and maybe not so great — parts of SF.
you really can't label this neighborhood, and maybe that's what makes it so great!
pros: easier parking, less frenzy, more of a neighborhood feel. some of the greatest restaurants are here just off the beaten path.
cons: this neighborhood is constantly changing and transitioning, so you may not feel completely settled in here. depending on the street, NOPA can feel really different.
the mission is the trendiest neighborhood, yet ironically is also a very traditional
neighborhood in the city. it has a lot going on between the families who have lived
there for generations, and the young population who moved in with the tech boom.
it really can be summed up as grit meets glitz, with some of the grittier areas running
right into streets with the city's top rated restaurants and young people out & about.   
pros: lots of young people, hip, trendy, some of the best restaurants, and very open culture. you have the amazing taqueria, dandelion chocolate, bi-rite creamery, chile pies,… and nothing can beat the view from dolores park on a sunny day…which there are more of in the mission, since the fog touches it less. you're also near the castro, so the fun never ends!
cons: there is some culture clash here mixed with resentment of all the people constantly moving in and overturning the neighborhood. you'll never know what to expect here, and although dolores park is beautiful, you have to watch out for those less-clothed :)
**of course there are more neighborhoods that i could keep listing, but i've just 
listed the main ones i know the best..and this post can't go on forever!
 so you can look up more info about the eclectic neighborhood of 
bernal heights
, the rough-around-the-edges 
dogpatch
, the less expensive 
inner richmond
, 
the 
artistic 
outer sunset
, hippie haight, the laid-back 
potrero hill
, the castro full 
of personality, the rough tenderloin, the 
self-
explanatory chinatown, the mellow 
family-friendly 
cole valley, 
the central union square, the impossibly 
posh seacliff, 
and many more. 
**note for first-time visitors: i do recommend staying in union square, 
although it's 
not technically a neighborhood it is fun and central.
this city is full of life, personality, diversity, and culture.
i adore each neighborhood and feel lucky to even live 
here 
and know the neighborhoods…please keep in mind 
that these 
are 
just 
my opinions, so don't get offended / or 
now i can point 

people here when they are visiting – or moving
to – this beautiful city by the bay. how we love you, san francisco!
---