elephant ride to amber fort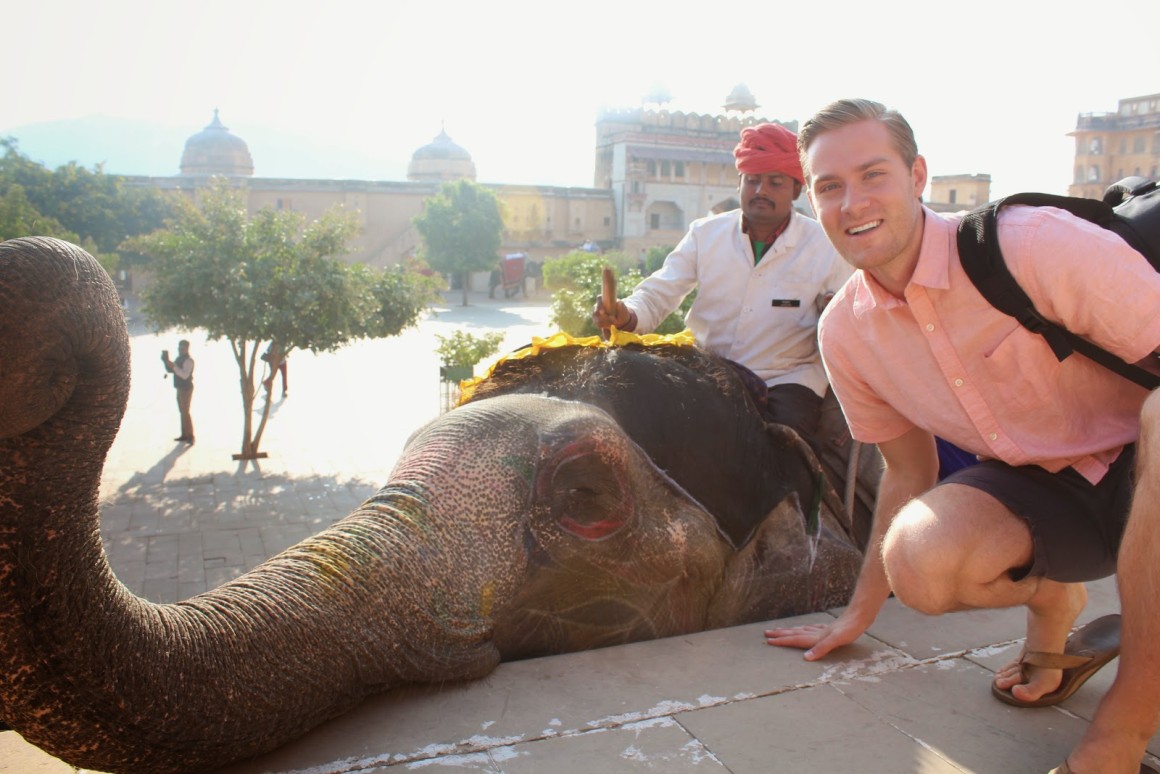 update & disclaimer, we didn't plan this activity ourselves- it was part of a tour which we
trusted to take us to good places with the best treatment of animals. we loved these
beautiful elephants and enjoyed the experience, but on future travels have sought out
rescue and safe haven animal sanctuaries to visit instead (in africa, etc). thanks!
riding elephants up to the 16th century amber fort 
was a
 highlight of our time in india. actually, it 
was 
a highlight 
of our year…and of our life!
have that on their bucket list???} but also because of the
setting 
where we rode them…& the experience all around. 
it was a full experience — from climbing the platform to
step onto the elephant, hearing hindi all around us, 
rocking 
back and forth in the little box on the elephant,
seeing the huge elephant ears flapping, and just feeling
like — is this real life???
 it was so magical and i 
couldn't stop smiling. i loved sharing it with chase most.
we ascended the hill to the
 fort by elephant ride views of 
jaipur's original city walls and the gorgeous maotha lake 
below. the view almost didn't look real as we rode up.

you'd think the highlight of an elephant ride is the actual 
ride, and then you get off and it's over. in this case, the
amazing ride was just getting us to another amazing
experience – exploring amber fort. i would have been
so sad to get off the elephant if i hadn't been so excited
to wander around one of the prettiest places i've seen.
we went into a hindu temple at the top, and it was
an amazing experience. our guide jas told us about
the significance of everything inside, he prayed, and
we walked up and got our bindi forehead dots meaning
we had visited the temple. as we were leaving, the guy
handed us these two beautiful leis and did namaste.
we took them a little confused, and walked back to our
guide who told us that each day the temple worker chooses
only one male & female to give these leis to. he said it is
always up to them, and that it was a blessing for our 
marriage…we'll take it! it was memorable for sure.
{this heart shaped petal even fell out of it– love it!}
in love with this wall and feeling very decked out
so i had to go for the yoga / namaste pose ^^
---