SF food guide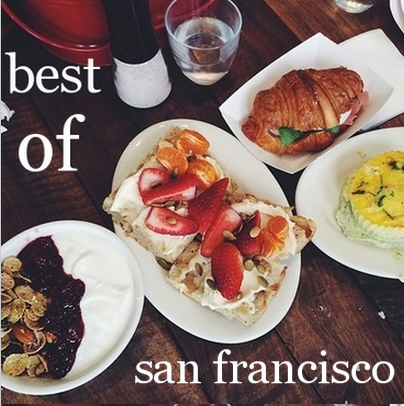 nopalito
mozzeria
this place is special. not only is has fabulous pizza, but an amazing spirit and story as well. it is san francisco's deaf restaurant, owned and operated by those hard of hearing. it's near-and-dear to our hearts because of my nephew with hearing loss — so we are big fans. it is unassuming and such a great experience to dine at.

little star pizza
this is really popular with locals. definitely get the garlic bread, and go for the deep dish pizza..the best.
zuni sf
a beloved classic. try their famous chicken!
nick's crispy tacos
if you're in the city on a tuesday night, come here for taco tuesday! come here any night for some of the yummiest fish tacos. make sure to get them "nick's way" which means packed with guacamole + sour cream. no brainer! get the guac + chips appetizer and agua fresca or horchata. *nick's is inside of rouge, which is a nightclub. depending on when you go, it can be loud but it's a fun atmosphere and you work your way to the back to get your tacos!
señor sisig food truck
you have to wait in this hour-long line at least once. the sisig tacos with cilantro cream sauce are the tastiest menu item and perfect if you're wanting something lighter •• however- if you're hungry and going for the big leagues, you get the california sisig burrito. it has FRIES in it. and avocado. and sour cream. and shredded cheese. and amazing pork. and pico de gallo. just dream about that. it's heavenly.
tartine bakery
this is a famous sf bakery that must be stopped into if you love sweets…which you hopefully do. get an eclair or a banana cream tart..or anything, really!
bob's donut shop
donut lovers, this is your spot. this place is really classic and just simple. it's open 24 hours a day and if you go late at night you can get lucky and catch a fresh hot batch. it's chase's true happy place, and even though i don't even love donuts i will always get one here. try the apple pandowdy, maple old fashioned, or anything that is fresh and warm.
miette patisserie
you have to stop in here for a macaron, and to take in the darling darling shop. in love!
enjoy SF and all of its deliciousness!
---