guide to madrid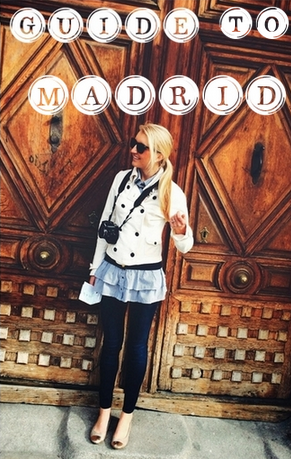 we had such an incredible time
in spain and portugal last month.
i'm finishing off my guides to the
4 cities we visited, starting with
madrid! you can see our 
below are my suggestions.. xo
the rooftop & breakfast alone are worth staying here.
you're right on the gran via in the most gorgeous
building and it's swoon worthy. stay here 100%!
*they have a free airport shuttle too!
in madrid we took everything from a cab to the bus
to the metro to a scooter…there are plenty of ways
to get around! we rented a scooter from moto & go, 
and it was great to get around madrid. since it is a 
big city with lots to see, we liked being able to hop 
on & off our scooter. it was a little chilly, but worth it! 
prado museum:

gorgeous museum which houses thousands of works by spanish & italian renaissance masters like goya, el greco, botticelli, and titian. be sure to check your schedule ahead of time, because it's free after 6pm every day. it's also really close to moto & go scooters, so it worked out perfectly to pick up our scooter and then stop here! also, try

cafe murillo

one street above the prado. it's darling and perfect for a bite to eat before/ after visiting the museum!

parque del retiro:

the prado is right on the edge of this pretty madrid park…it's sort of the central park of madrid! very classy, gorgeous, and lots of discoveries inside like the palacio de cristal. if it's warm weather, rent boats here!

palacio de cristal:

i loved this pretty crystal palace in parque del retiro. it is all glass and they must clean all the glass panes every day to keep it so sparkling. it's a pretty stroll through the park to find it.

gran via: 

the main, busy street cutting through madrid. this is shopper's paradise, with amazing stores all along the way. it's like madrid's champs-élysées.

palacio real de madrid: 

this royal palace of madrid was so so so stunning. wow. that all white, royal structure was quite a sight to take in! i love buildings like this and it reminded me of a spanish (and much smaller) version of the main versailles building. there are over 2,000 rooms (WOW) and a large collection of weapons/artifiacts from spain's royal family. it's a must-visit!

plaza mayor: 

europe has these big plazas that are so dreamy. why don't we have more of these little pedestrian squares in the U.S.? plaza mayor is a huge square that is gorgeous and right near

puerta del sol

, the spot where madrid's streets meet in one lively spot in the middle of the city. the 18-century clock tower is gorgeous, and it's where locals count down the new year each year.

mercado de san miguel: 

you know us, we will always find a food market anywhere we go! this one was great with so many tapas and other fresh food.

cava baja: 

the best street for tapas. wander down, pick some out, enjoy!

plaza de toros de las ventas: 

madrid's famous bullring. for some reason i had never realized they actually kill the bulls…or that it's really gory. sad! it's interesting because bullfighting is a major part of spanish history, but different parts of spain disagree about it. it's not allowed in barcelona, but is still big in madrid. madrid's

museuo taurino

is the bullfighting museum on the edge of the bullring if you're really interested in it (and have a strong stomach for some gore!) you can see some of the costumes and learn a lot…and, it's free!

bernabeu stadium:

football (soccer) fans, come here and pay for a tour to see one of the biggest football stadiums in europe. it is HUGE and this sport is SO BIG over there! 

anden o chamberi metro madrid museum:

an entire museum all about the madrid metro system. if you're nerdy like us, you'll love seeing this and learning about the history of the city's transportation. *free but only open on weekends!

plaza de espana: 

stop at this big square just off the gran via!

fuenta de la cibeles: 

pretty fountain right near the gran via (and hotel atlantico). i couldn't believe the gorgeous fountains all over madrid, this one was probably my favorite.
and, there you have it! our short + simple 
guide 
to madrid. please comment with 
other favorites and suggestions!
you can see more from our time in madrid 
---