merry & bright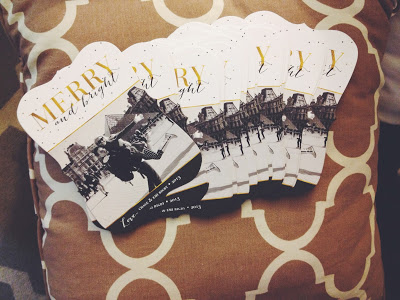 our christmas cards have all been sent,
and we have one week left before we
go home for the holidays.
christmas really is around the corner!
this week will include: finishing 
having lots of hot chocolate,
a holiday party with friends in the bay,
christmas, wrapping gifts, 
baking treats, packing for home,
and playing christmas music 24/7.
this month has slipped right
by so i am determined to fully
enjoy these last 12 days until
this year we did our christmas cards through
tinyprints, and i couldn't be happier with
how they turned out. we had an amazing
year and there were so many photos i wanted
to use. i was making it complicated by
 thinking of all these different
collage options and deciding which
pictures to include, and then one night
in this picture at the louvre 
and it just was so perfect with the card.
i was obsessed with their design,
and the words "merry & bright"
described the photo and tied
in christmas. so just like
that, i decided to make it easy
and let tinyprints do the rest.
it was so easy to order, and
chase is happy i saved him lots 
of hours of designing a complicated
card when this one was so much
easier and better! so thanks, tinyprints.
i always write something on the
back, have to make it personal!
all addressed and sent last week!
and, can't forget the labels.
and treat, and i have more posts about 
treat 
coming in the future.
happy 12 days left until christmas!
ps.. see last year's christmas card here!
---