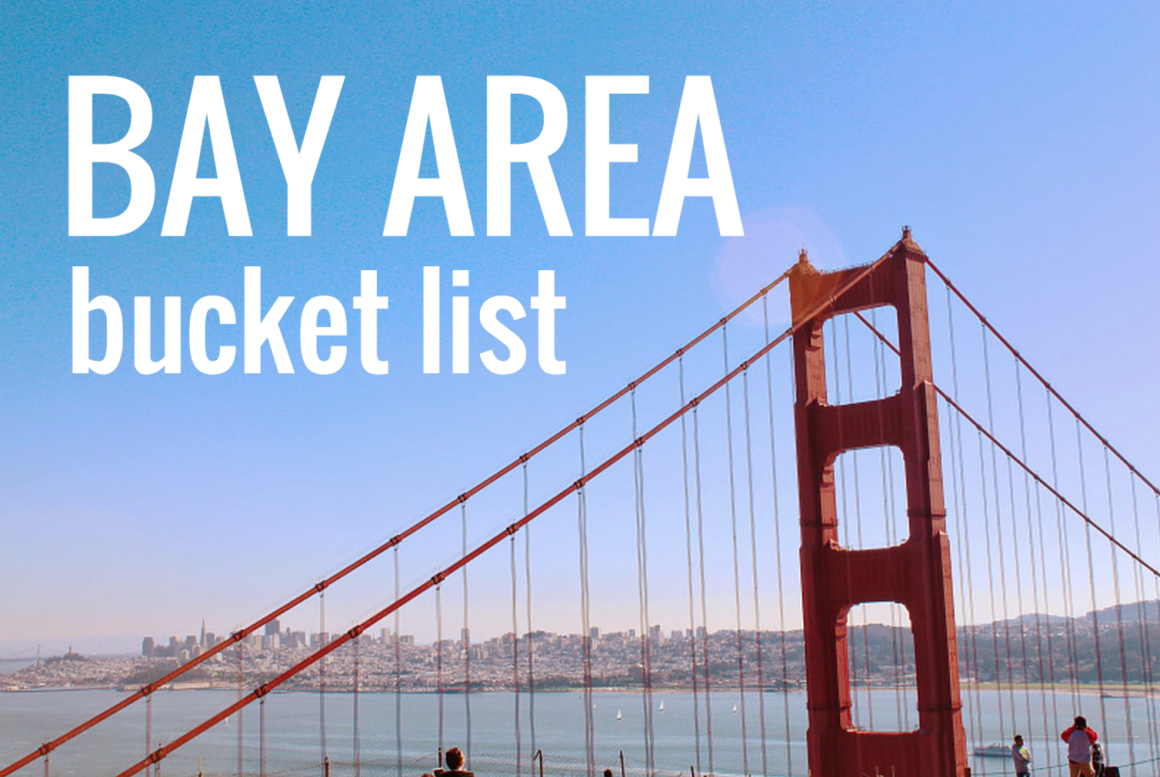 ---
We  l o v e  the Bay Area.
It is the perfect place for us to live right now.
We plan to live here for a while, but eventually we might end up somewhere else.
So, we better take advantage of all the time we get to live in such an amazing place.
To better do this, we made a little bucket list. Some we've done and some we need to do..
We'll update as we check more off, but sharing it now for any other Bay Area lovers!
Click on any we have checked off to see more them!
•• San Francisco Bucket List •• 
Completed:
•• Greater Bay Area ••
Completed:
Tour It's-its ice cream sandwich factory
See a concert at Shoreline Amphitheater
Sequoia National Park
Alameda Island sand castle contest
Hakone Gardens in Saratoga
Cowell Ranch Beach
Parkside Aquatic Park
Tour the TESLA factory in Fremont
Castle Rock State Park
Alamere Falls
Calero Lake Park
Burlingame
See the lights on Eucalyptus Street in San Carlos during the holidays
Emeryville horse races
Stay a weekend in Mill Valley
Go to the Gilroy Garlic Festival
A's game
Niners game
Warriors game
Eating tour through Berkeley's "gourmet ghetto"
Farallon Islands
Livermore wineries
Kayak at Moss Landing/ Elkhorn Slough
Happy Hollow Park & Zoo
Oakland Zoo
Eat deep fried artichokes at the Giant Artichoke in Castroville
Run the wharf to wharf 10K in Santa Cruz/Capitola in July
Ice skate at Winter Lodge, Palo Alto
Point Reyes
Climb to the top of Hoover Tower at Stanford
See the monarch butterflies at Natural Bridges State Park
Eat at Zachary's Pizza in Oakland
Ride horses on the beach at Seahorse ranch in Half Moon Bay
Hiller Aviation Museum
Palo Alto Baylands Nature Preserve
Hot air balloon ride in Napa
Safari West in Santa Rosa
Felton Covered Bridge Park (tallest in U.S.A.!)
Ride the roaring camp train from Felton into Santa Cruz (+ghost train in the fall!)
Sharks hockey game
See the Santa Cruz Mystery Spot
Horseback riding at Garrod Farms in Saratoga
Horse races at Golden Gate Fields
Tour the Jelly Belly factory
Downtown Walnut Creek
Eat at Barbara's Fishtrap at Pillar Point Harbor
Filoli Gardens
Tidepools at Fitzgerald Marine Reserve
Ardenwood Historical Farm
Paddleboard / feed the ducks at Shoreline Park
Humboldt/ Redwoods
Goat Farm in Pescadero
Bean Hollow Beach
Mount Hamilton
The Inkwells swimming hole
Henry W. Coe State Park
Dennis the Menace Park in Monterey
Chabot Space and Science Center
Watercourse Way Bath House Spa
Stevens Creek County Parks
Go ziplining in the Santa Cruz mountains
Begonia Festival in Capitola
Stay over at Cavallo Point Lodge
Children's Discovery Museum
Agaccio Farms
Hike Mt. Diablo
Eat at Nepenthe in Big Sur
See a movie and have dinner doing it at
Rialto
Lake Tahoe in the winter and summer
Big Basin State Park
Moffett Field Historical Society
Backpack the Lost Coast
Arroyo Seco river float
We're so lucky to live in such a beautiful place with so much to do.
We've done a lot in the time we've lived here, but there is still so
much to see & do. We can't wait to check more items off this list!
**See our guide to San Francisco here**
xo
Please comment with any other Bay Area bucket list items!
---